Mitt Romney Leads in Iowa, Which Tells You a Lot About Polling the 2016 Primaries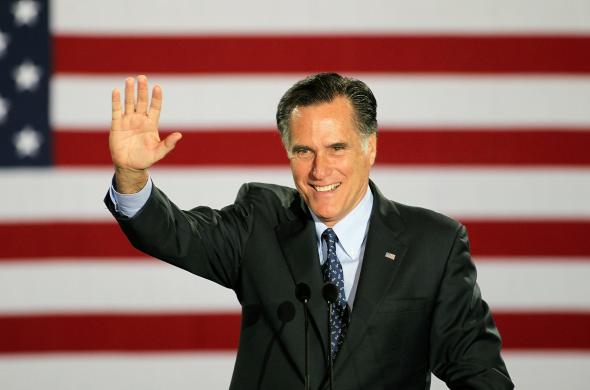 The 2016 Iowa caucuses are 17 months away, which means that the political press corps must locate a Republican front-runner right now. A little while ago, based on polling that gave Sen. Rand Paul a margin-of-error advantage over the field (one poll put him at 12 percent in Iowa) and residual support for his family, Paul was anointed the "Iowa frontrunner." But today brings an even click-worthier story:
The day after Mitt Romney opened the door to another possible presidential run, a new poll shows he has a huge lead among likely 2016 Iowa Republican caucus voters.
According to a USA Today/Suffolk University poll released Wednesday, 35 percent of likely GOP caucus voters would vote for the 2012 GOP nominee in 2016. When Romney's name was added to the pool, no other candidate received double-digit votes.
This Politico story, written by breaking-news reporters, has been shared more than 17,000 times on Facebook. In August. Of 2014. How many Iowans actually support Romney for 2016? One hundred seventy Republicans were polled, and 60 chose Romney.
The Romney Renaissance (Romniassance? No.) is an irresistable story for the press corps, based on a few scraps of news that are weightier than this poll. One: When asked if they could retake the 2012 ballot, most voters say they'd pick Romney over Obama. (Most say they'd choose Hillary Clinton over Romney.) Two: Romney has remained just-engaged-enough in high-level, donor-level Republican politics, gathering supporters in Utah this year so they could meet some GOP stars. Three: Romney, like a lot of Republicans, has benefited from a 2014 electoral map that slants toward red and purple states. He won West Virginia by 26 points, Arkansas by 24 points, and North Carolina by 2 points, and lo and behold he's campaigning there while Democrats want President Obama to stay away, or turn to jelly when reporters mention the president's name. Romney can even campaign in Iowa and New Hampshire, two states he lost to Obama, thanks to the reliable "don't blame me, I voted for the other guy" effect.
Yet none of this means that Romney, who is five months older than Hillary Clinton, will run again. Look what happens in Iowa when Romney is not presented as an option for 2016.
Eighteen fewer people say they're "undecided" if Romney's in the race.* Eleven fewer people say they'd vote for Chris Christie. Seven fewer people say they'd vote for Marco Rubio. So on and so on—Romney's a familiar face, whom Republicans were told was going to win the presidency, and his name distracts Iowa Republican voters from the people they have never even seen a TV ad for (with the exceptions of Huckabee, Perry, and Santorum). Honestly, it feels a little cruel for the voters who gave Romney only 25 percent of the caucus vote, and second place, for two consecutive election cycles, to come off like they've got Romneyphilia. They just aren't paying attention to the next presidential election. Why should they?
*Correction, Sept. 4, 2014: This post originally misstated that 25 fewer Iowans say they're undedcided if Romney is in the race.