Can Anyone Remember Which President Ed Gillespie Worked For?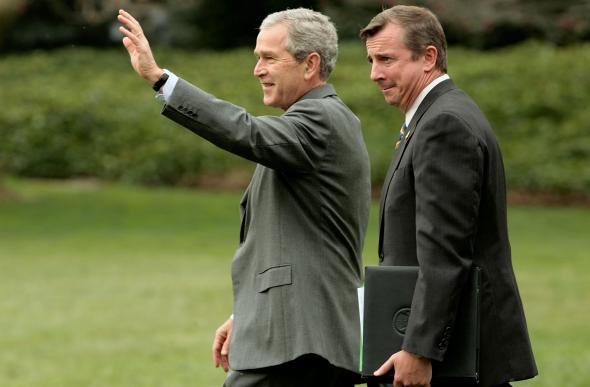 Ed Gillespie, who currently trails by 19 points in his somewhat hubristic bid against Virginia Sen. Mark Warner, is out with his first campaign ad. Being able to battle Warner on the air is sort of the point of the Gillespie campaign; he's got at least 29 years of donor contacts, if you start the clock from his days at the RNC and keep it running through his time launching a bipartisan lobbying firm. He's worth at least $10.3 million, and Warner's set to become the richest man in the Senate when Jay Rockefeller leaves next year, so the ad's a particular fine example of the trend (explained here by Mark Leibovich) of wealthy candidates assuring you that their family's rootsiness was passed down to them like singing ability or heart disease.
Gillespie does not have the résumé that a consultant might dream up for his candidate. He has not fought in Iraq, like Iowa's Joni Ernst, or in Afghanistan, like Alaska's Dan Sullivan. He's basically been a political operator, a little-loved career, though not unpopular enough to sink now-Gov. Terry McAuliffe on his second statewide run. And he ... what's that résumé item near the start of the ad? "I helped pay for college as a Senate parking lot attendant," says Gillespie, "and eventually became a counselor to a president."
Which president? Gillespie does not say, but anyone who has paid attention to politics since 2000 or so probably knows that Gillespie was counselor to George W. Bush during his final term. Previously he was an RNC chairman who assured audiences that the president's decision to invade Iraq was a humdinger. "I'm not alone in feeling that I was a better person after 20 months at his side," Gillespie wrote of Bush in 2013, in one of the many "Miss Him Yet?" pieces of the Obama era, "and we look forward to the day when the facts about his time in office are more widely understood."
That day is not Aug. 21, 2014. Maybe tomorrow?