Smart Policing Takes Good Training, Not Just Diversity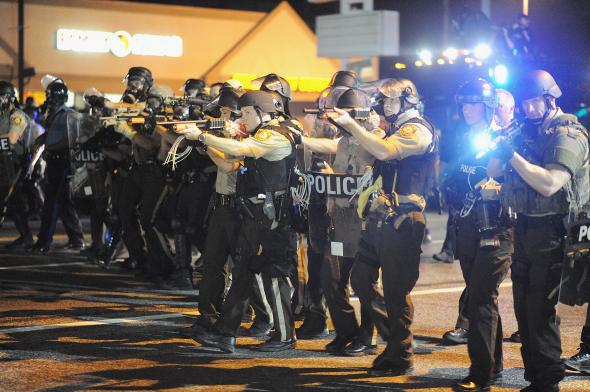 Since the turmoil in Ferguson began last week, there has been much discussion over the lack of diversity in American police departments. As of 2007, the most recent year for which data is available, just one in four officers nationwide was a minority, according to the Bureau of Justice Statistics. In 1987 it was one in six. The Washington Post has put together a helpful infographic from 2010 census data of cities where police departments don't resemble the neighborhoods they serve. Three-quarters of them have a higher proportion of white officers than the white population in the community.
Yet greater diversity on police forces is hardly a magic solution. Though it is good policy and clearly needed given the troubled racial history in American policing, it will take "more than diversification to 'cancel out' skepticism of minority citizens" toward police, says Joshua Cochran, a criminologist at the University of South Florida. What is needed (but far less examined) is to ask how recruits and officers, of any background, are taught to think about race when policing. There are no national standards for evaluating police departments along these lines. Training regimens on dealing with bias are left up to individual states, and the requirements vary widely, according to data from the International Association of Directors of Law Enforcement Standards and Training, or IADLEST. Alabama does not require any such training. Massachusetts mandates 30 hours of course material, while Georgia requires just two. No national body keeps track of the types or results from such courses, and data is sketchy. (IADLEST's figures are from 2005 and the most recent available.)
A study of police recruits from the Midwest conducted last year by Michael Schlosser of the University of Illinois Police Training Institute found that few would-be officers enter police training with an awareness of their own racial biases or the need for racial sensitivity education. Many scorned the notion that diversity training would be fruitful or important. "Although police academies have experimented with numerous forms of diversity training for six decades," Schlosser concludes, "it appears the situation today is not much different from the 1940s."
Officers and police departments are often "indifferent to hostile" to lessons about diversity, says Lorie Fridell of the University of South Florida, who conducts police training throughout the country. "I think the way we've been teaching the subject in this country has been wrong," she says, because what education there is often begins with the assumption that police are explicitly racist, and many therefore reject it. Fridell and her colleagues have developed a curriculum to address implicit bias—prejudices a person might consciously reject, but reflexively influence their behavior—which, studies show, can trigger excessive violent action in police work. Schlosser and his colleagues at the Police Training Institute are piloting another curriculum. Both report anecdotal successes (e.g., when officers report using the training to diffuse a difficult situation or stop them from acting on unwarranted reflex), but longitudinal studies have not yet been done. The relative newness of these ideas speaks to the gap in crafting better policing policy. That will require a change not just to composition but also to policing culture.