This Video of Tear-Gassed Journalists Is Great for Foreign Propaganda Outlets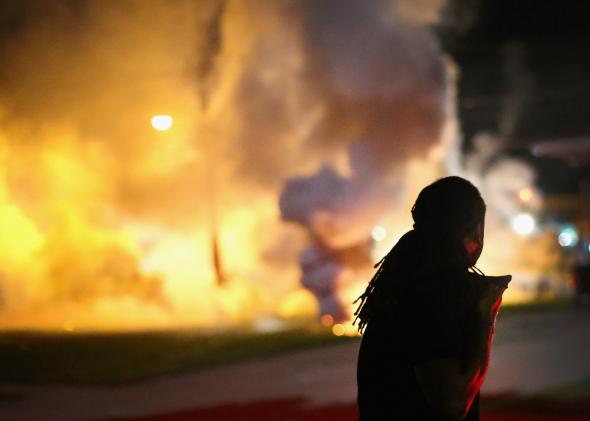 Al Jazeera's own reporting on the incident amounted to one line. In a long piece about Ferguson, Missouri police firing tear gas at protesters, the network added that "Al Jazeera journalists covering the protests in Ferguson on Wednesday night were also tear gassed by police."
Anyone wanting to see how it went down had to click over to local KSDK, which posted nearly complete video of the reporters being gassed and running, before SWAT teams show up to plunk their lights and cameras onto the grass. Later, the video picks up an exchange between cops and reporters being told to leave.
"We're OK here," says a reporter.
"We don't want you here," says a cop. "Somebody's going to get hurt." Like, say, by tear gas.
Al Jazeera's experience made me curious about how RT, the Russian propaganda channel with reporters in the U.S., was covering Ferguson. Thoroughly. In aggregation-heavy posts, RT is asking what "press freedom" means in America if reporters are tear-gassed while setting up for a story. At PressTV, the Iranian propaganda channel, there's little original coverage, but there is an essay by an American explaining how "decades of social decay have gotten us to the point where the thin veneer of civilization that we all take for granted every single day is wearing dangerously thin." Telesur, the Venezeulan propaganda channel, is missing its opportunity for coverage, and the news of arrested journalists broke around noon in North Korea but I don't see the Central News Agency making hay yet. The material's just waiting for them.
Update: The Wrap got more details from the police, who claim the tear gas was fired unintentionally, and that they reunited reporters with equipment. That's in the video—that's the sound you hear of the police telling the reporters to get scarce.