President Obama, Gov. Nixon, an Anonymous Cop: The Internet Looks for Blame in Ferguson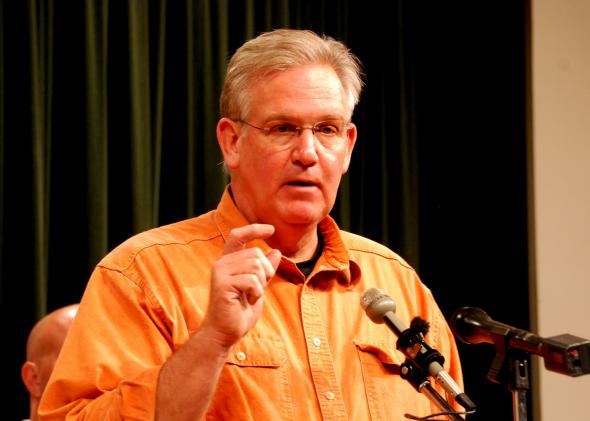 My colleague Elliot Hannon has collected the tweets of the Huffington Post's Ryan Reilly and the Washington Post's Wes Lowery into a long post about how the two reporters were arrested in the Ferguson, Missouri, McDonalds they'd been using as a filing center. My colleague Jamelle Bouie is on the ground in Missouri, and I have a statement from the Huffington Post:
We are relieved Ryan Reilly and Wesley Lowery are safe, but we are disturbed by their arrest and assault.

Ryan was working on his laptop in a McDonald's near the protests in Ferguson, MO, when police barged in, armed with high-powered weapons, and began clearing the restaurant. Ryan photographed the intrusion, and police demanded his ID in response. Ryan, as is his right, declined to provide it. He proceeded to pack up his belongings, but was subsequently arrested for not packing up fast enough. Both Ryan and Wesley were assaulted.

Compared to some others who have come into contact with the police department, they came out relatively unscathed, but that in no way excuses the false arrest or the militant aggression toward these journalists. Ryan, who has reported multiple times from Guantanamo Bay, said that the police resembled soldiers more than officers, and treated those inside the McDonald's as 'enemy combatants.' Police militarization has been among the most consequential and unnoticed developments of our time, and it is now beginning to affect press freedom.
Reilly and Lowery are incredibly hard-working reporters, both well-liked and respected in D.C. (Don't hold that against them.) There are reports that higher-ups in the Missouri police forces realized that the arrests were terrible mistakes, committed by people who never heard the cliché that you don't "pick a fight with people who buy ink by the barrel." This is even truer when the barrel-owners happen to own Amazon.com and AOL.com.
But the story is moving at Twitter-speed, and there is little time to waste before assigning political blame. Shortly before midnight, BuzzFeed's political editor Katherine Miller (formerly of the Washington Free Beacon) captured the zeitgeist by sharing the White House pool report and noting that "violence continued" in Missouri. Meanwhile:
[In] his toast for [Ann] Jordan, President quipped that he met Vernon and first, but liked Ann more. The menu consisted of surf and turf and pasta. The Obamas danced nearly every song. A good time was had by all.
The snark wrote itself: dancing while Ferguson burned. A tweet from the office of Gov. Jay Nixon elicited a similar, can-you-believe-the-gall response.
Canceling all appearances at the @MoStateFair to visit North #STL County tomorrow. Statement to follow.

— Governor Jay Nixon (@GovJayNixon) August 14, 2014
When you clicked on the tweet, Twitter recommended an article from Mother Jones co-editor Clara Jeffrey, headlined "Where is Governor Jay Nixon?" and illustrated by a parody of a Where's Waldo? cover. Jeffrey's piece, consisting mostly of tweets from journalists asking why Nixon was not acting, was shared on Facebook more than 1,000 times in an hour. Nixon, a Democrat re-elected in 2012, had already asked the DOJ to look into the shooting of Michael Brown. But Nixon makes a poor contrast with other governors who reacted to unrest in major cities by plunging in and meeting with municipal and law enforcement leaders.
Decades ago, when unrest and police responses broke out in cities, the measurable civilian response was limited to what the media could capture. Local Philadelphians talked to reporters about what it was like to live near the MOVE siege; residents of Cincinnati did the same when their neighbors protested the killing of Timothy Thomas. The reaction to Ferguson (or #Ferguson) is happening on social media, everywhere, shaped by conservatives who want to blame Democrats, police state critics who want to talk about militarization, and foreigners who wonder what the hell is wrong with America. The easiest and most famous targets are the politicians. But as Josh Harkinson has been reporting, Internet activists with no determinated location are currently working to identify the cop who killed Mike Brown.
Update: From Ryan Reilly's Facebook page:
A St. Louis County police officer in full riot gear, who refused to identify himself despite my repeated requests, purposefully banged my head against the window on the way out and sarcastically apologized. I'm fine. But if this is the way these officers treat a white reporter working on a laptop who moved a little too slowly for their liking, I can't imagine how horribly they treat others.
Update II: From Rep. Justin Amash, one week off his defeat of a candidate backed by the Chamber of Commerce:
Images & reports out of #Ferguson are frightening. Is this a war zone or a US city? Gov't escalates tensions w/military equipment & tactics.

— Justin Amash (@repjustinamash) August 14, 2014