Bold New Idea: Regime Change in Iraq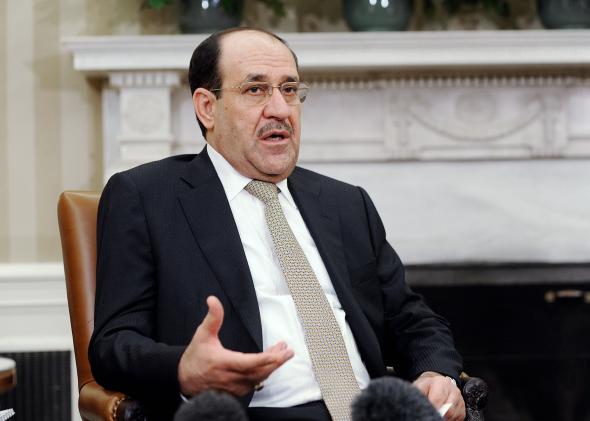 President Obama gave a short Monday statement of congratulation to the new leaders in Iraq's parliament. Little mistaking the intention—Obama was praising the people who had weakened Nouri al-Maliki's position and removed him as prime minister. Eli Lake has some deep reporting on how we got here.
[T]he president has instructed his diplomats in Washington and Baghdad to find an alternative to Iraqi Prime Minister Nouri al-Maliki. Since June those diplomats have quietly supported a member of Maliki's own political party to be the next prime minister. On Sunday, the effort appeared to pay off, when a majority of Shi'ite politicians threw their weight behind Haidar al-Abadi, leading to Iraq's president to instruct him to begin forming a new government.
In my story from yesterday, about the struggle among Republicans (politicians, activists) to interpret what's happening in Iraq and why, I note that Mike Huckabee called Maliki a "liar" and blamed him for the failure of modern weapons to get to the Kurds. Anti-Maliki sentiment has been burbling up for months in the American press, which meant, inevitably, that it reached even the Republicans who see themselves as beyond media influence.
Even in Hillary Clinton's interview with Jeffrey Goldberg, the lede of which was Hillary's insistence that the administration (which she'd left, by that point) missed a chance to intervene in Syria, her consistent message was that the United States had "learned about the limits of our power to spread freedom and democracy," while learning the "importance of our power, our influence, and our values appropriately deployed and explained." One way to read that? For starters, not allowing a weak regime to lose Iraq.