Trackers vs. Campaign Gatekeepers: Whoever Wins, We Lose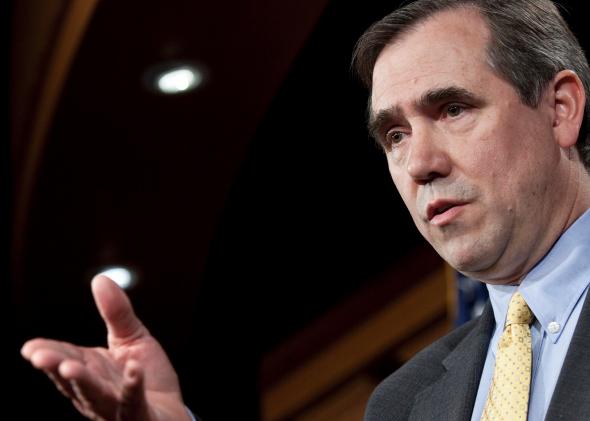 On first look, it's campaign tracker gold. Oregon Sen. Jeff Merkley, who has put some distance between himself and challenger Monica Wehby, scheduled an invite-only event on Social Security. Some septugenarians found their way to the location. As a tracker rolled film, and Merkley's aide Jamal Raad offered the same apology multiple times, the seniors got angry and split.
"This doesn't impress me, and nor does the campaign," says a protester identified by the Oregonian as Alta Lynch.
"I was planning on supporting him whole-heartedly," says Scott Ingalls, the man in the tie-dyed overalls. "Not now."
"Stump for the other one," says Lynch. "That's what I'm gonna do."
How could a campaign do this? How could it brainlessly kick out a guy wearing tie-dyed overalls, as if he was a Republican plant?
Well ... Alta Lynch, of Scappoose, may not have been a die-hard for Merkley. On her Facebook page, she's shared an article about a Wehby meeting about the VA scandal, a meme about Barack Obama being "engulfed in scandals," and a meme that shames "race-baiters." Luke Hammill reports that Merkley apologized to the shut-out constituents anyway, which would have neutered the story, but for the video. And events like these, where politicians talk to vetted audiences, are hardly unique to Merkley, who supplements them with at least one town hall a year in each of Oregon's 36 counties.
So there are two stories here. 1) Campaigns sound ridiculous when they try to keep people out of events using the language of Kafka bureaucrats. 2) Using this, anyone who wants to embarrass the campaign of the candidate they're not voting for should show up with a video camera.