The Tea Party's Close Call in Tennessee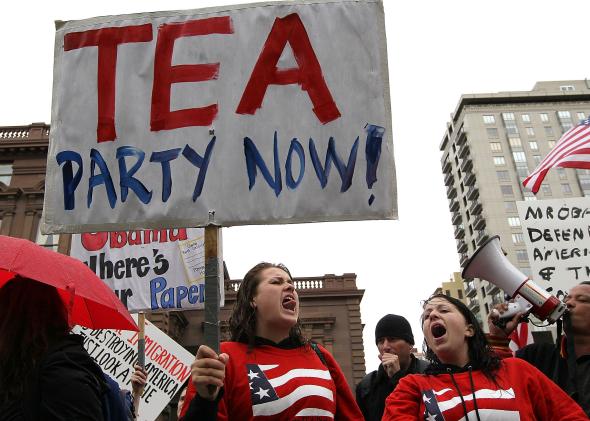 It was closer than expected, and that in itself was a win. Yes, sure, fine—in my story about the final days of the final credible Tea Party challenge of an incumbent Republican senator, you'll find several allies of state Rep. Joe Carr arguing that there's no trophy for second place.
But Carr, who raised roughly $1 for every $6 raised by Sen. Lamar Alexander, held the senator under 50 percent of the vote. Carr won middle Tennessee, including Davidson County (Nashville) and the surrounding, reddening suburbs. (These are the areas where Republicans surged in 2010, unseating or spooking into retirement two Blue Dog Democrats.) In his own Rutherford County, Carr won by a nearly 2-1 margin.* Alexander simply outperformed him in most rural areas and in Tennessee's other urban hubs—Memphis, Knoxville, Chattanooga. In just the counties around those cities, Alexander made up half of his eventual margin over Carr.
Why did the race close up? One reason was wan turnout. On the trail, Alexander and Gov. Bill Haslam speculated that this year would see the highest GOP turnout in history. It just didn't happen. Right now it looks like 664,393 Republicans cast ballots, which is up from the 2012 Republican presidential primary but down from the 720,804 votes cast when Haslam won his 2010 gubernatorial primary. The combination could have been toxic: Thin turnout, with the most energy generated by challenges in middle Tennessee, and an overall sentiment of voter disappointment in/dread of Washington.
Still, Alexander won. And in another way that seemed too glib for my story (but is, of course, fine for a blog), it seemed fitting that the Tea Party ran aground in Tennessee. Alexander had his election party in Nashville, where four years ago the only National Tea Party Convention was held, with roughly one reporter for every four attendees. Carr conceded in Murfreesboro, which until recently was most famous for the 2009 protests of a planned Islamic Center—a "mega-mosque."
*Correction, Aug. 8, 2014: This post originally misidentified Rutherford County, Tennessee, as Murfreesboro County.