The GOP Whip's Lobbyist Helper Also Hates the Tea Party's "Racists" and "Hucksters"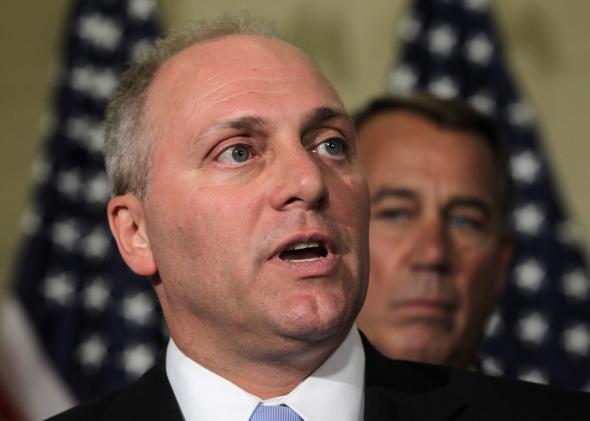 Anna Palmer and Jake Sherman had a fascinating scoop this week about how the new House GOP whip, Rep. Steve Scalise, had lobbyist John Feehery "sit in on" interviews for job candidates. Feehery, whose biography offers us a classic tale of Washington momentum—from Denny Hastert to lucrative lobbying and punditry—did not deny the report. "I've never advocated for or brought client issues before the office," he explained. And the story did not say that he did, only that "many of his clients have issues that can be affected by the House Republican leadership."
That might not be what irritates conservatives. Scalise, whose victory in the whip race was seen as a win for the party's right, is relying on one of the many establishment figures who loathes the Tea Party. In a January 2013 blog post, under the evocative title "The Tea Party Must Be Crushed," Feehery burst forth with conventional wisdom about how the populist movement was ruining things for Republicans.
It is time to get rid of the Tea Party. They are an embarrassment. Worse, they are collaborating with Democrats to bring down Republicans and make it easier for Democrats to win general elections. ... The Tea Party has been a fifth column within the Republican Party, blowing up bridges, sabotaging supply lines, creating false controversies, wasting valuable party resources, and generally making it easier for Senate Democrats and Barack Obama to stay in power.
Feehery went on, clarifying that he was angry with Tea Party groups that nominated loser candidates or challenged possible winners, and enriched themselves in the process. "When the Tea Party started, it was a national movement of good people who were worried about the future of the country," he wrote. "But today's Tea Party has morphed into something far different. It has become a collection of wing-nuts, racists, hucksters, extremists, con-men and front-men, who collaborate with Hollywood and left-wing organizations to plot the demise of Republicans in good standing."
It wasn't a one-off blog post. Feehery has written lots of stuff like this; it's just that "GOP establishment figure criticizes Tea Party" is not such a unique story that people paid much attention. In one post he described the origins and figures of the GOP's civil war, branding Mark Levin a "dark, malevolent" figure of talk radio, and reporting that the Chamber of Commerce "has finally had enough of the Tea party non-sense." In another, he branded FreedomWorks a "giant scam."
Nothing unusual here. Lots of D.C. Republicans feel like Feehery. But few of them get to offer advice on whom the House GOP leadership should hire.