The Pro-Troop Charity That Happens to Give Millions of Dollars to "Tea Party" Consultants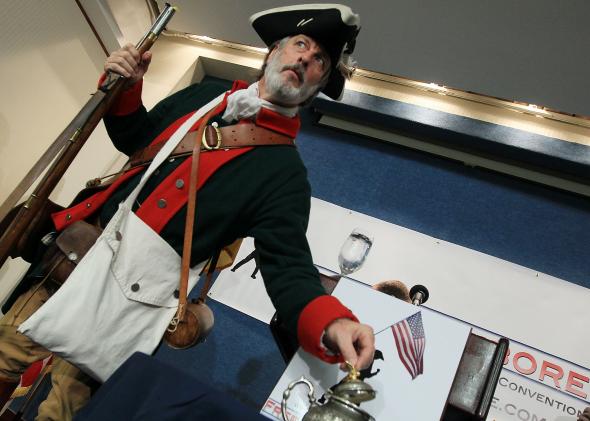 More than a year ago, ProPublica's Kim Barker published a long investigation into the world of Sal Russo and Tea Party Express. Russo, a California Republican consultant (and quote machine), launched several PACs that sold themselves as the avatars of the grassroots. All of them ended up paying hefty fees to Russo's consulting firm.
Of the $9.3 million spent by Our Country Deserves Better, more than $3.8 million went to Russo, Marsh and Associates, employees or others connected to the firm. Of the $3.9 million spent by the Campaign to Defeat Barack Obama, $2.4 million went to the firm and its associates. The pro-military Move America Forward Freedom PAC spent almost $143,000.
But that story didn't slow down the Express. TPE played big in the 2014 establishment-Tea Party primaries, which are only wrapping up this week. Mississippi's Chris McDaniel and Kansas' Milton Wolf, among others, campaigned with the Tea Party Express. (Literally. There's a maroon TPE bus that chugs around the country for political rallies.) Russo-world looked pretty bulletproof, able to play in primaries no matter what was written about its finances.
This Kim Barker story might change that. For longer than the Tea Party Express has existed, Russo has consulted for Move America Forward (as opposed to MoveOn, get it?), a group that ostensibly raises money to send supplies to the troops. Barker appears to be the first reporter to notice that Charity Navigator was warning people not to give to Move America Forward, and then to keep digging. Sure, MAF does send packages to the troops. It also:
- Raised money for the 1st Marine Division, claiming it had sent 800 packages to Afghanistan, when the 1st Division was actually in Okinawa.
- Snagged photos from other charities, military sites, and sources like Pinterest to illustrate what it claimed were Move America Forward operations. Here, for example, is an April 2013 update on a supply deliver, and the 2004 stock photo it used.
- Recycled the story of a Marine whose legs were taken by a roadside bomb, without his permission.
It goes on like this, all toward Barker's point—that according to its last five tax returns (i.e., the life of the Tea Party Express), MAF paid $2.3 million to Russo or his firm. Thirty percent of donations to MAF went to consulting fees, for a political firm. And no one can say how fungible the money is, or whether MAF donors are also tapped to give political donations to TPE.
Well, that's not true. We know that the MAF email list intermingles with the TPE list. Barker reports that a "ProPublica reporter's father" sigend up for MAF emails, then started getting TPE appeals. I went the other way; I subscribed to TPE emails, via an address I use for that sort of work. Having never subscribed to MAF, I have gotten every one of the appeals mentioned in Barker's article. That's where the screenshots come from in this post. It wasn't exactly a secret that the groups shared resources. MAF emails instruct you to send a check to 8795 Folsom Blvd., Suite 103, in Sacramento. That's the same address and suite as Tea Party Express. Move America Forward is clearly part of the conservative sphere, appealing to right-wing stars and asking them to help raise funds. And over the years, no one seemed to check the Charity Navigator page.