Why Is This Republican Congressman Worried About a "War on Whites"?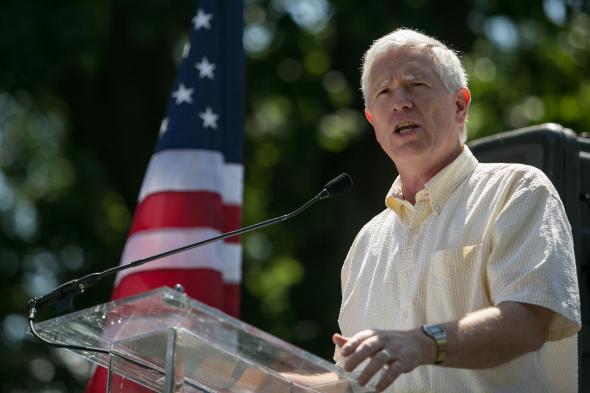 Alabama Rep. Mo Brooks, who arrived in Congress with the 2010 GOP wave, was one of the most vocal opponents of last week's border bill. It was Brooks, really, who reminded the press that any bill could be contorted by the conference committee, and that Sens. Jeff Sessions and Ted Cruz were reminding Republicans of this.
On Monday morning Brooks went on Laura Ingraham's show (which is to immigration restriction what Epic Meal Time is to calorie consumption) and engaged in 12 minutes of predictable recapping about the border fight. Then things got real. Ingraham played Brooks a clip of National Journal's Ron Fournier, warning that the GOP could not survive as the "party of white people." Brooks' response?
"Well, this is a part of the war on whites that's being launched by the Democratic Party," he said. "And the way in which they're launching this war is by claiming that whites hate everybody else. It's part of the strategy that Barack Obama implemented in 2008, continued in 2012, where he divides us all on race, on sex, greed, envy, class warfare, all those kinds of things. Well, that's not true, OK? And if you look at the polling data, every demographic group in America agrees with the rule of law and securing our borders." He told listeners to seek out a speech Rep. Raul Labrador (whose family is Puerto Rican) gave about the rhetoric. "The Democrats, they have to demagogue on this, and turn it into a racial issue."
Ingraham let all that flow, then gave Brooks a chance to walk back. "I don't think Raul Labrador would probably say there's a war on whites," she said.
"That is in effect what they're doing," said Brooks. "That's the political game."
"They're playing the race card, they're playing the war on women card," said Ingraham. "That's what the left does, but I don't think 'war on whites' is the best phraseology."
She left it there, but within hours the Huffington Post had noticed the exchange, which effectively meant it would go viral. (Coming soon to a Jon Stewart monologue near you.) That got AL.com into the story, grabbing a fresh interview with Brooks—who walked back nothing. He was being colorblind; the Democrats were being race-obsessed.
"It's much like the congressmen during the (immigration) debate on Friday: Democrat after Democrat was talking racism and race," he said. "And the motivation for their doing so was to try to cause bloc voters of race to vote solely on skin color. I'm one of those who does not believe in racism and I believe everyone should be treated equally as American citizens. It's high time folks started calling out the Democrats for their racial appeals. Certainly if you were to flip the coin and a white person were to say vote for me because I'm white, it would be an uproar and deservedly so. So why do we allow blacks to say vote for me because I'm black or Hispanics vote for me because I'm Hispanic? Race is immaterial, and everybody ought to be treated the same."
What will the fallout be for Brooks? Nothing—his district, which hugs the Tennessee border, voted by a 2-1 margin for Mitt Romney over Barack Obama. No Democrat bothered to run against him this year. Honestly, there's less to Brooks' "war on whites" riff than the headline suggests. Other conservatives, most notably Stanley Kurtz, have described the Obama administration's urban-focused transportation and energy policies as a "war on the suburbs," ways to get the people who fled the cities (white people, though that's not made explicit) to come back in. And the politics of welfare and food stamps have always tracked with opinions about race.
But Brooks wasn't saying any of that. He tried to coin a phrase—like "war on women"—insisting that accusing Democrats of waging this fight was calling out racism.