Meet the Republican Elected by Attacking "Bigotry," Who Went on to Vote for Deportations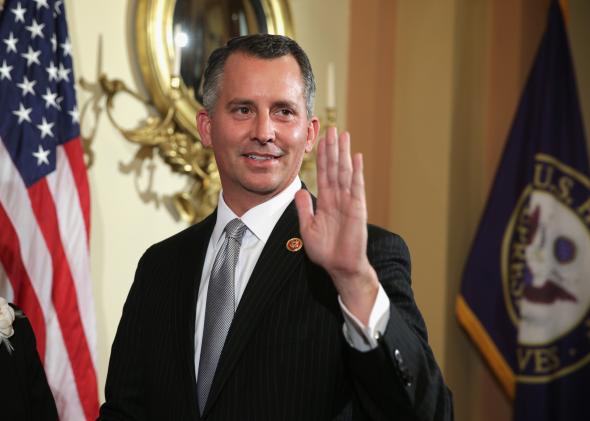 Friday night's immigration votes in the House happened with only a little time to make the next news cycle. Generally, the conservatives who argued that a vote would benefit the party nothing—that Republicans were better off carping about Barack Obama's failures—seem to have been proved right.
But before the votes are memory-holed, one note about DACA. In order to secure enough conservative votes to pass the scaled-down border bill, Republicans had to hold a separate vote "to prohibit certain actions with respect to deferred action for aliens not lawfully present in the United States." Basically, to undo Barack Obama's 2012 executive order that granted a sort of amnesty to "childhood arrivals," and which has been used by nearly 680,000 "DREAMers" to get work permits.
The roll call vote on that bill is a map of the 2014 election landscape. Only four Democrats voted "aye," three of whom are up for re-election in deep red districts. (The fourth, North Carolina Rep. Mike McIntyre, is retiring.) Only 11 Republicans voted against it, and all of them are either moderate, Hispanic, represent districts with significant Hispanic votes, or running statewide in heavily Hispanic states. (That's Colorado Rep. Cory Gardner.)
One of the Republican "aye" votes jumped out to me. Florida Rep. David Jolly voted with most Republicans; earlier in the day, he'd praised the process that got the votes as "Congress working." (I've asked for but not yet gotten a statement about his DACA vote.) I'd covered Jolly's win this year in the heated, expensive race for Florida's 13th District. In the final debate, Democratic candidate Alex Sink suggested that immigration reform was necessary, and that the Chamber of Commerce (which was hosting the debate) backed it, because "we have a lot of employers over on the beaches that rely upon workers, and especially in this high-growth environment, where are you going to get people to work to clean our hotel rooms or do our landscaping?"
Jolly, who said nothing about the comment at the time, was later struck by l'esprit d'escalier. "I think Alex Sink's comments reflect a bigotry that should disqualify her from representing the people of this community," he said, "and should disqualify her from serving in the United States Congress. She offended immigrants throughout this community, she offended non-immigrant workers."
What was bigoted about the comment? Jolly never explained, even after local reporters scoffed at the "bigotry" charge, and after the Tampa Bay Times' Adam Smith reminded readers of what else Sink had said.
For every example that you hear, I think about the high school valedictorian — I believe he lives in this district now. High school valedictorian.
He was brought here when he was a young man, 9 or 10 years old. He didn't choose to come here. His parents brought him. He was undocumented. And what does he do? How does he get an education? He did everything right. He became an incredible student. He even eventually ended up going to law school and becoming a lawyer. But right now he can't practice law because of his undocumented status. That's not right.
Sink, in her roundabout way, argued that people brought illegally to the United States as children should have a pathway to citizenship. Jolly accused her of "bigotry" for how she said it. And five months later, he cast a vote to deport people brought illegally to the United States as children.
Jolly has no Democratic challenger for the fall election.