Why Democrats Love Giving Ted Cruz Credit for Republican Failures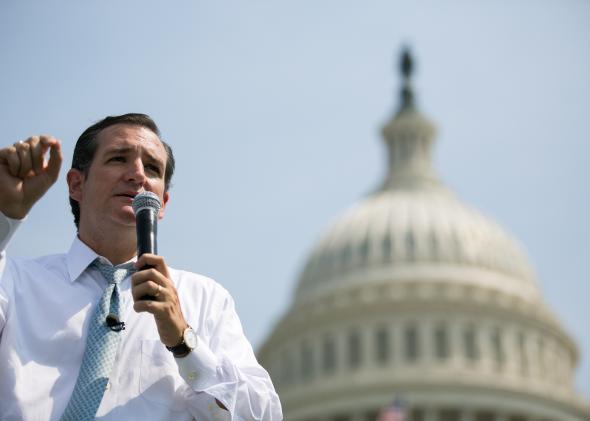 As soon as the House GOP leadership fumbled its border bill, Democrats started blaming Ted Cruz. "Blaming" might be too strong a word—Democrats were practically vibrating with delight at another chance to portray John Boehner as a simpering loser who keeps getting dunked on by a freshman senator from Texas.
.@SenTedCruz Just thought I'd go right to the source, will the House be voting tonight?

— U.S. Rep. Mark Pocan (@repmarkpocan) July 31, 2014
Advertisement

Democrats do this because Cruz is famous, and—they believe—primarily associated with the 2013 government shutdown. The press doesn't do much to contradict the message.
And the last thing the GOP needs right now is stories about how Ted Cruz has more influence over the House than Boehner

— Chuck Todd (@chucktodd) July 31, 2014
But does Cruz really run the House conservative caucus? Alabama Sen. Jeff Sessions, who's been in the Senate since 1997, did plenty of whipping and case-building of his own. Betsy Woodruff confirms what I've heard about Sessions bringing Alabama's House delegation on board; Rep. Mo Brooks became one of the House conservatives most ready to explain why it wasn't worth passing a compromise bill. Cruz played a role, but the Republican opposition to a flimsy "hey, we did something" bill did not need to be taught.
The Cruz-as-puppetmaster storyline has a way of erasing other Republicans from these sorts of battles. In the winter of 2012, the most prominent conservative opponent of the U.N. disabilities treaty was probably Rick Santorum; he returned to the Senate and to the public debate to lobby colleagues against ratification.
But who's now given credit for pushing Republicans to oppose the treaty? The answer is in Jeff Toobin's profile of Ted Cruz.
Cruz made his influence felt in the Senate even before he took office. He was invited to join the weekly lunch of the Senate Republican caucus on December 4, 2012, which happened to be the day the full Senate was debating the United Nations treaty on the Rights of Persons with Disabilities. The treaty seemed fairly uncontroversial, but Cruz, as the tribune of the Tea Party movement, was opposed. "I was a newly elected senator who hadn't even been sworn in yet, but I did just pass on, having just come from the campaign trail, that issues of U.S. sovereignty resonate powerfully with the American people," Cruz told me. The issues in the treaty were broadly similar to those in the Medellín case, in that they involved the interplay between American law and international institutions.
Dick Durbin, the Illinois Democrat who is the assistant majority leader, recalled Cruz's influence on Republicans at that lunch. "These people walked out scared as hell," he said. "And I thought, This guy is wasting no time to flex his muscles over there."
I don't deny that Cruz played a role, but it's telling that a powerful Democrat went on the record to make sure Cruz, and not some has-been, got the credit.
UPDATE: Robert Costa is up with a well-reported look at how House conservatives communicate with cruz. No denying it, but the advice he's quoted giving them -- telling Steve King, for example, that any immigration bill could be turned into a Democratic bill via the conference process -- is well-known. Reality, and the perspicacity of the conservative base (which follows what Congress is doing via talk radio and social media and Fox News), make it difficult for Republicans to buckle. Cruz is just the most visible acto, the one that Democrats benefit most from attacking. Five years ago, they were doing the same with Rush Limbaugh.
TODAY IN SLATE
Technocracy
Forget Oculus Rift
This $25 cardboard box turns your phone into an incredibly fun virtual reality experience.