What Obama Meant When He Said "We Tortured Some Folks"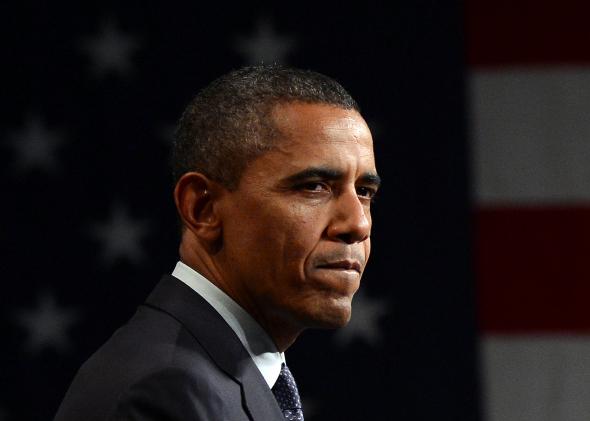 A hastily convened news conference ended with President Obama seeming to make some news. After reporters demanded the president weigh in on whether CIA Director John Brennan should keep his job, they got a yes, and a meandering monologue that ended with this admission: The coming declassified report on interrogations would find that "we tortured some folks."
Torture! This news led the AP's story on the presser. "Obama's remarks on Friday were more emphatic than his previous comments on the subject," wrote Ken Dilanian, "including a 2009 speech in which he trumpeted his ban of 'so-called enhanced interrogation techniques,' and 'brutal methods,' but did not flatly say the U.S. has engaged in torture."
But Obama has used the T-word before. In 2009 he described waterboarding as "torture." Nearly 15 months ago, in the National Defense University speech that was scheduled after the first Edward Snowden leaks, Obama admitted that America had used torture in its aggressive response to the 9/11 attacks—and then he came along and stopped it.
Most of these changes were sound. Some caused inconvenience. But some, like expanded surveillance, raised difficult questions about the balance that we strike between our interests in security and our values of privacy. And in some cases, I believe we compromised our basic values -- by using torture to interrogate our enemies, and detaining individuals in a way that ran counter to the rule of law.
So after I took office, we stepped up the war against al Qaeda but we also sought to change its course. We relentlessly targeted al Qaeda's leadership. We ended the war in Iraq, and brought nearly 150,000 troops home. We pursued a new strategy in Afghanistan, and increased our training of Afghan forces. We unequivocally banned torture, affirmed our commitment to civilian courts, worked to align our policies with the rule of law, and expanded our consultations with Congress.
Why is Obama reiterating this now? Because the report is on the way, and because by being blunt he can go further than the authors of the report will go. (They do not use the word "torture.") And because Obama's approach to the topic, like his approach to the issues discussed in the NDU speech, is an assurance that the worst practices ended when he took over.