Surprising No One, House GOP Fails to Pass Border Bill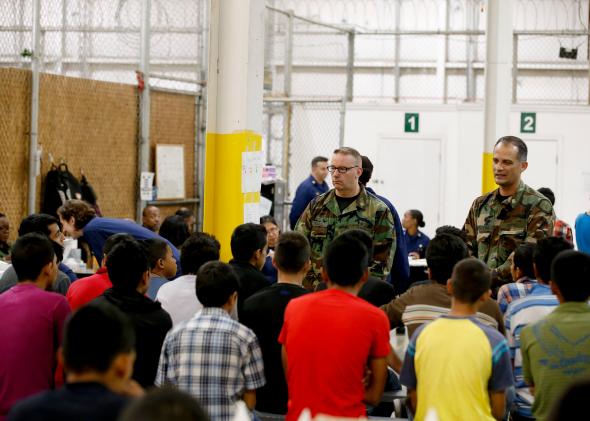 This morning, defeated Rep. Eric Cantor finally gave up his majority leader title, handing the job to Rep. Kevin McCarthy. Before picking up his lame-duck lapel pin,* Cantor paid tribute to the messiness of the body, and how great things could come from disagreement. "This House was not designed to be a rubber stamp," he said.
Hours later, Cantor's successor whiffed on the border bill. Readers of this blog should have seen it coming, and so should anyone who has observed Boehner and McCarthy during the many times when an intra-conservative compromise failed or was pulled before the House could kill it. Rep. Nancy Pelosi, as usual, proved more adept at whipping Democrats against a bill than Republicans were at keeping 218 members on the team. (Pelosi probably prevented a few Democrats, like Rep. Henry Cuellar, from giving Boehner cover.)
And Democrats got plenty of yuks out of the House GOP's response to the failure. In a joint statement, the party's four House leaders attempts to move blame and the buck back over to Barack Obama. "There are numerous steps the president can and should be taking right now, without the need for congressional action," they wrote, "to secure our borders and ensure these children are returned swiftly and safely to their countries." Faiz Shakir, an adviser for Harry Reid, immediately tweeted the punchline: "The same people who are suing the president for taking exec action are calling on him to take exec action."
A little cute, maybe, but for the umpteenth time—the first day of a new leadership team!—the House GOP leadership has stepped on a rake. Ted Cruz can (and will) take credit for rallying conservatives against a compromise bill. The only positive news of the day, really, comes from Brian Wingfield and Laura Litvan's story about a McCarthy ally maybe producing an Ex-Im back rescue plan.
Republicans led by Representative Stephen Fincher of Tennessee, who voted against reauthorizing the bank in 2012, plan to introduce a bill that would renew it, while mandating changes in its business practices. In the Senate, a new bipartisan measure would require the bank to report more about its operations to Congress.
Without congressional action, the bank's charter will expire at the end of September. Congress, which begins a five-week recess at the end of this week, will have 11 working days to act.
"It's unreasonable to think that the bank is just going to end Sept. 30," said Fincher, a member of the House Financial Services Committee that is debating the 80-year-old bank's renewal, in an interview.
Fincher was one of McCarthy's first and most famous recruits in 2010—the "gospel-singing farmer from Frog Jump, Tennessee," who raised enough money to scare a Democrat into retirement and easily win his seat.
*Figuratively speaking. There is no such pin.