Rand Paul Wants MSNBC "Hacks and Cranks" to Apologize to Him on TV "for 24 Hours"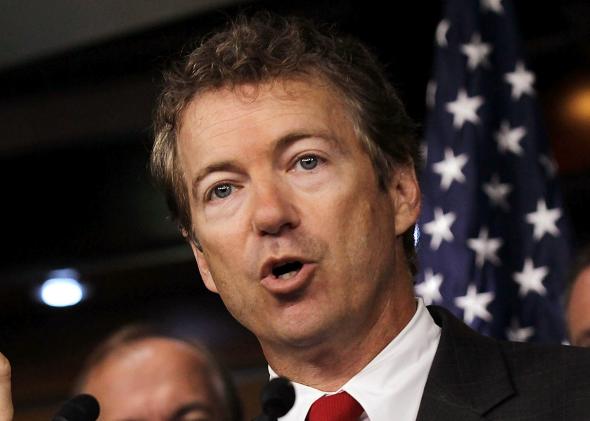 Sen. Rand Paul's team-up with Sen. Cory Booker has drawn some of the most positive coverage of either man's short Washington career. (Booker had plenty of positive coverage in Newark, including but not limited to several documentaries.) The Republican and the Democrat have found basically no critics of their REDEEM Act, which would unwind some war-on-crime laws that make it difficult for minor offenders to get past their records and build new lives. Yesterday, Booker and Paul joined Ari Melber on MSNBC, for an interview that was largely about bipartisanship and the promise of the bill.
Largely, but not entirely. At one point Melber asked Paul whether he'd evolved on his thinking about whether government could and should compel businesses not to discriminate.
"People need to get over themselves, writing all this stuff that I've changed my mind on the Civil Rights Act," said Paul. "Have I ever had a philosophical discussion about all aspects of it? Yeah, and I've learned my lesson, if you come on MSNBC, have a philosophical discussion, the liberals will come out of the woodwork, and they will go crazy and say you're against the Civil Rights Act, and you're some terrible racist."
A few hours later, Paul crossed the Potomac for the annual Young Americans for Liberty conference, talking to young people (mostly college students) who've signed up with the organization set up after Ron Paul's first Republican presidential bid. Paul's general theme—the success and promise of a "leave us the hell alone" coalition that could break the partisan divide. He went into some detail about the wins he'd already had, and the popularity of libertarianism.
"I was having a great day today," he said. "Then I went to MSNBC."
Paul's audience laughed ruefully.
"They want to pounce, and get me into a discussion, you know, about civil liberties, private property, and all the intersections in between," said Paul. "I said, look, I'll come back, and we'll have a great philosophical discussion after I see you go on the air for 24 hours and apologize for all the lousy lies you've been saying about me for four years."
The students burst into applause.
"I'm thinking I won't be on soon," said Paul. "But if they come through with it, and want to apologize for 24 hours for making up stuff about my positions, I'll consider it. But really, there is an intersection for honest progressives. I don't include MSNBC, because I don't think they have many. They have a couple. They have partisan hacks and cranks, and what happens is you have people who make everything into a partisan argument."
The senator started to talk again about the actual merits of the bill, but he had to take another swing at the network that he felt had ambushed him.
"We're trying to make this not a partisan issue," said Paul, "but you go on a network that wants to make everything about partisanship."