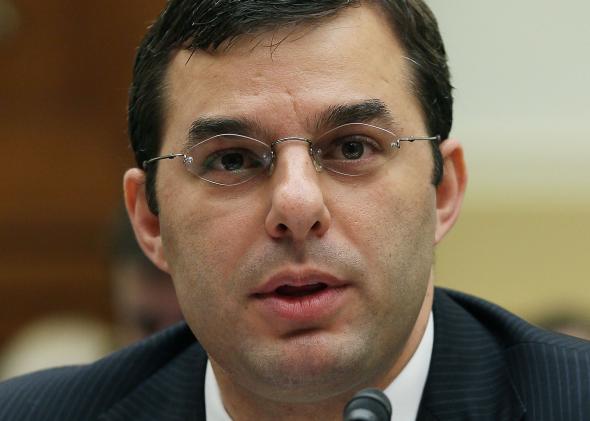 Justin Amash, a second-term congressman from Michigan and chairman of the House Liberty Caucus, exudes the air of a droll, nerdy freshman dorm RA. No wonder college students like him. He arrived late for a panel discussion with fellow caucus members at the Young Americans for Liberty convention on Wednesday, and his entrance drew loud cheers from the crowd. Throughout the hourlong discussion that followed, the only things apt to elicit more thunderous applause were mentions of Ron Paul, the word "liberty," and criticism of the GOP establishment.
The last point proved tricky for the congressmen to navigate when asked whether the party had been improved by the presence of libertarian ideas. Rep. Walter Jones went first with a damning critique: "The Republican party is just as co-opted by money as the Democratic Party," he said, and the theater exploded with shouts. More conciliatory messages from Reps. Raul Labrador, Thomas Massie, and even the popular Amash about building the liberty movement within the GOP elicited more muted responses.
It takes dedication to a cause for students to give up a part of their summer vacation, dress up in a suit, and go off to Virginia for days of political lectures—and these convention attendees did not lack fervor. But this crowd of young libertarians seems to loathe Republicans more than it dislikes Democrats. Some think it's time to stop hiding behind the GOP and are unimpressed with party rhetoric from the panel. "We've heard it all before," sighed a student from Cincinnati. "Sharing the party with Republicans makes us have to compromise our principles," said another. Two women I spoke to voted for Gary Johnson in 2012 and professed an enthusiasm for Jill Stein, the Green Party candidate in that election.
Which is to say that the admiration for Amash and his colleagues, for all the applause last night, might not run that deep. It isn't as if they are going to run as Libertarian Party candidates. Nor do they rely on the youth vote: Just 9 percent of votes cast in Rep. Jones' (closed) primary against Taylor Griffin in May were from 18-to-25-year-olds, for example.
More young people seem to have taken up the "socially liberal, fiscally conservative" label that some at the YAL conference used to summarize their beliefs—there were 325 participants in this year's conference, compared with 60 in 2009, its inaugural year—but their "liberty-loving" Republican representatives are not quite with them. (Amash, for example, calls himself "proudly pro-life.") As for the notion that these congressmen can bring youths into the GOP fold—that may prove a distant hope. The ones at YAL are fomenting idealistically for a strong third party, not to revitalize an existing one. "Don't give up on the Republican party," Rep. Thomas McClintock told the audience. Apparently, some already have.