Virginia's Former Governor Has the Saddest Legal Defense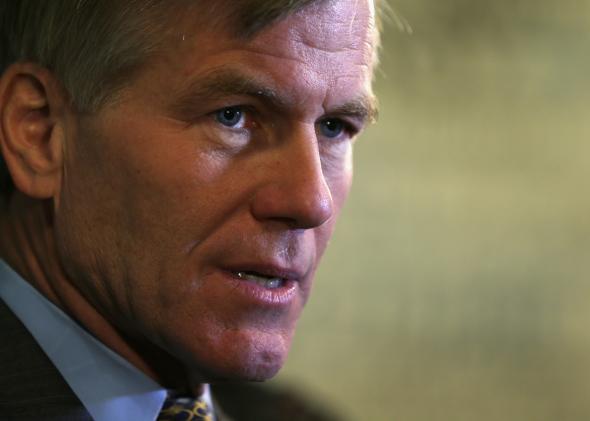 The trial of former Virginia Gov. Bob McDonnell began yesterday, more than a year after The Washington Post broke the news that a rich grifter named Jonnie Williams had plied the governor's family with $165,000 in gifts and loans. As a scandal, it prevented Virginia's Republican Party from building any momentum in the election to replace McDonnell, and then faded for a while. It has returned because the trial is supplying world-class levels of pathos. The Richmond Times-Dispatch reports on the argument debuted by attorney John Brownlee, of how Williams could worm his way into the McDonnell family:
Brownlee said the marriage's disintegration, which accelerated in fall 2011, was further evidence that the couple had not conspired to help Williams or hide what they took from him.
Brownlee told jurors that McDonnell had spent virtually half his term away from home, and that his hard work and dedication took its toll on his relationship with his wife.
"She said she hated him," Brownlee told the jury.
"He did everything he could to help Maureen and give her confidence and self-esteem," Brownlee said, but there wasn't enough time spent at home, or enough money.
The result, said Brownlee, was "a rift so wide" that "an outsider could invade and poison the marriage."
Fox News reports on what happened when McDonnell's daughter Cailin took the stand.*
While asking her about the $15,000 catering bill for her wedding reception, which Williams paid, the prosecution also admitted photos of the wedding into evidence.
At that point Cailin broke down and began sobbing. The judge called for a 10-minute break and in subsequent questioning, she explained that it is "extremely painful" to look back on her wedding. "It's like there's a black cloud over it. I wish we could have just danced in the back yard with our family and friends," she said.
Every story from the trial is a little bit sadder. We're calling it the "crush defense," the argument that McDonnell's wife was so bored and distant that she cuddled up to Williams. It was during much of this period that McDonnell was floated as a possible vice president for Mitt Romney, which shows you how much logic applies to the quadrennial "veepstakes."
*Correction, July 30, 2014: This post originally misspelled Cailin McDonnell Young's first name.