The Great Obamacare Gaslighting of 2014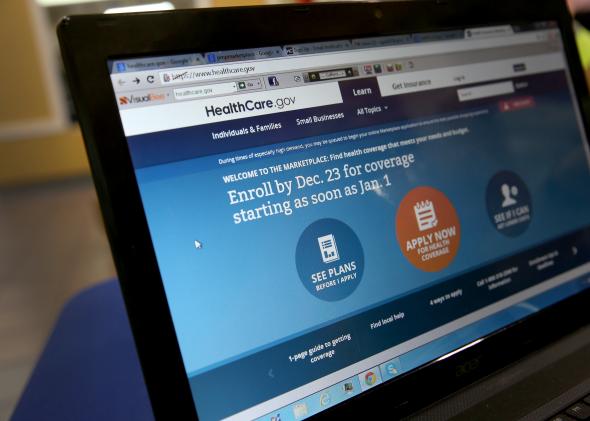 The case against Obamacare subsidies has no shortage of libertarian advocates or heroes, but the most powerful person on its side is probably Oklahoma Attorney General Scott Pruitt. In 2012 he became the first AG to sue the DHS on the same grounds as the plaintiffs in Halbig—that the ACA referred several times to subsidies going to states that set up their own exchanges, so states that failed to do so were being illegally brought into the system by the IRS. "Should the courts decide the IRS is exceeding its authority and isn't allowed to assess the employer penalties in states that have not established their own exchanges," wrote Pruitt, "the structure of the ACA will crumble." So he wasn't going for subtlety.
Last week a commenter at the Volokh Conspiracy discovered a speech by health care economist Jonathan Gruber, an architect of Romneycare and Obamacare, in which he appeared to endorse the "no exchange no subsidy" argument. That set off a search, by conservatives, to find Gruber saying the same in other places, and a counterattack by progressives (who cannot believe they have to prove this) pointing out that Gruber's other writing and cost-scoring assumed the subsidies for everyone. This week Pruitt filed a motion to add Gruber's newly uncovered quotes to the record.
Plainly, this newly-discovered evidence squarely controverts Defendants'evidence on this point, and establishes that it is far from "implausible" that the drafters or Section 36B intended to withhold tax credits and subsidies from states who declined to set up exchanges in order to place pressure on those states to set up exchanges. To the contrary, it is not only plausible, it now appears to be demonstrably true.
Demonstrably. This is the apex, so far, of the Great Obamacare Gaslighting of 2014. To the delight of conservatives, progressive reporters like Greg Sargent and Ezra Klein keep producing evidence and interviews bolstering what seemed obvious just eight days ago. Sargent, who is a frequent target of conservative ire, came up with a tick-tock of the process that merged a HELP Committee bill (a federal exchange, subsidies!) and a Finance Committee bill (state exchanges) and left in excess verbiage.
But this has settled nothing. Phil Kerpen, the smart strategist who runs American Committment (and used to be a strategist at Americans for Prosperity), has used his Twitter account to tell a history of how conservatives throw their bodies against the gears, making sure states would refuse to set up exchanges, with the expectation that this could stop the law. On Monday, Kerpen tweeted a unifying theory of how liberals came to argue that the "exchange set up by the states" language was in error.
Highly likely there was a WH call or meeting with liberal "reporters" when they flipped the switch to claim states were always irrelevant.

— Phil Kerpen (@kerpen) July 28, 2014
It's brilliant because, well, how can it be be debunked? Conservatives know that liberal policy reporters and columnists, like the people mentioned in this post, have been beckoned in to White House chat sessions. What did they know? When did they know it? Just asking the question, just assuming that they will not answer it honestly.
Meanwhile, the search is on for more isolated examples of liberals arguing for the importance of state exchanges. Each one feeds the theory—which was enough for two judges in D.C.—that Obamacare was always supposed to work like this, the subsidies were always conditional, and it's the liberals who are gaslighting by pretending otherwise.