Biden, Putin, and White House Spin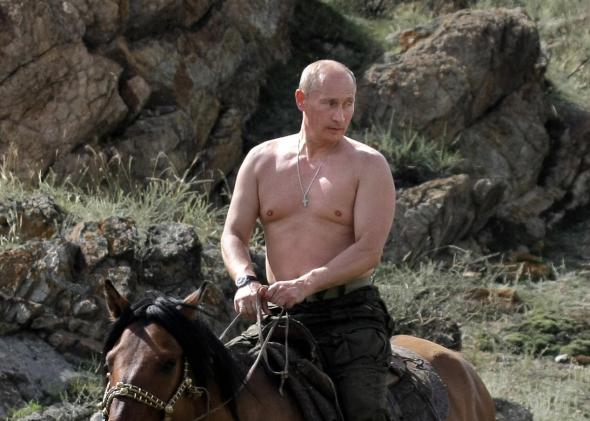 Evan Osnos' (typically) fantastic profile of Vice President Biden has been mined and aggregated for classic Bidenisms. Nothing has burned up the Internet quite like this exchange, concerning a 2011 Biden visit to Russia.
To illustrate his emphasis on personality as a factor in foreign affairs, Biden recalled visiting Putin at the Kremlin in 2011: "I had an interpreter, and when he was showing me his office I said, 'It's amazing what capitalism will do, won't it? A magnificent office!' And he laughed. As I turned, I was this close to him." Biden held his hand a few inches from his nose. "I said, 'Mr. Prime Minister, I'm looking into your eyes, and I don't think you have a soul.' "
"You said that?" I asked. It sounded like a movie line.
"Absolutely, positively," Biden said, and continued, "And he looked back at me, and he smiled, and he said, 'We understand one another.' " Biden sat back, and said, "This is who this guy is!"
Biden's spent four decades building the rep and image that make the story credible. And it contrasts so sharply with George W. Bush's infamous insistence that he looked into Putin's eyes and saw his "soul." Biden 1, Bush 0.
Echoing messages conveyed during his earlier meetings with Russian President Dimitry Medvedev and Prime Minister Vladimir Putin over the course of his three-day visit, Vice President Biden hailed the successful "reset" of U.S.-Russian relations and reiterated his call for broader economic cooperation between the two countries.
If the "soul" moment occured, the White House press shop definitely buried its lede. Who could blame it, though, when the only Biden-Putin exchange open to the press was a mutual back-scratch competition?
"Since you've been here last time, and over this period of time, Moscow and Russia has changed a lot," said Putin, "and for the better I might add."
The soul-peering vice president's response? "I would agree."
If Biden's new anecdote is true, the White House spun a fairly tense and arch meeting into another successful push of the RESET button. And it minimized the importance of Putin's attitude—something Hillary Clinton has done recently, describing the Potemkin presidency of Medvedev as a sort of truce when relations were mended and Putin did not meddle. Most everyone realized at the time, though, that Putin would grab back the presidency as soon as he was legally able.