It's Up to Ted Cruz to Stop Iran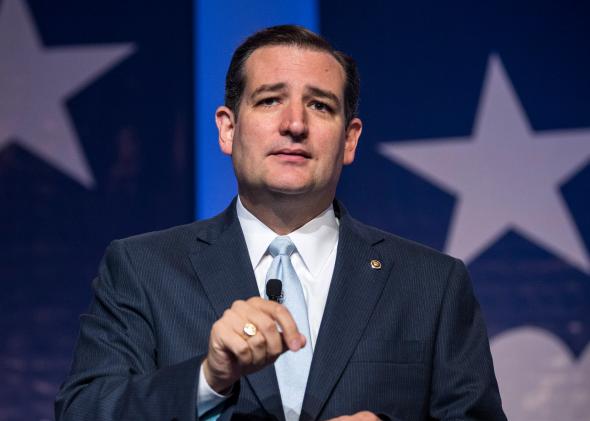 The Christians United for Israel conference spreads over two days; day one ends in a long musical celebration, day two is occupied mostly by lobbying trips to congressional offices. It does not usually happen at a moment when six months of negotiations with Iran have failed and been granted an extension, or a moment when Israel is warring in Gaza to destroy Hamas weaponry and tunnels.
But CUFI's available responses to this are suboptimal. In 2013 it backed a new Iranian sanctions bill co-sponsored by Sen. Bob Menendez and Sen. Mark Kirk—a bill that seemed to be nearing on a veto-proof majority until the White House pushed back. Now, it was going to back whatever Sen. Ted Cruz came up with, in the wake of his successful bill to bar Iran's designated ambassador from the United States.
"We're very practical," said David Brog, executive director of CUFI (and a former Senate staffer). "I like to support bills that can actually pass, but the way Menendez-Kirk was throttled convinced me that on this issue, unfortunately, there can't be a bipartisan effort that will pass or sustain a veto. And so we're doing something we've rarely done, which is supporting bills to make a statement. I don't think the Cruz bill can become law, but I want to see it get a lot of co-sponsors. And even that could give the administration leverage that it doesn't know it wants."
In his Tuesday morning speech to CUFI, Cruz gave no new details of what sanctions he'd be asking for. He did run down the conditions for peace with Iran.
"Give up the centrifuges," said Cruz. "Hand over the enriched uranium—all of it. Shut down the ICBM program."
But the sense here, at the major evangelical coalition of support for Israel's policy, was that the Obama administration was cold to sanctions—that Secretary of State John Kerry, actually, was going to deny Israel a total victory by negotiating a cease-fire, and enable Iran by punting negotiations till after the 2014 election.