The Rick Perry Renaissance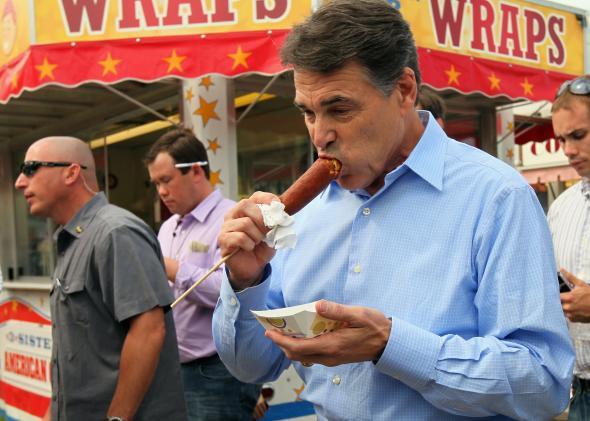 When Rick Perry's 2012 presidential campaign ended, reporters were torn. Was it the worst-ever attempt to win the White House? Was it merely as bad as Rudy Giuliani's? Was it a fluke, caused by Perry's ill-timed (but successful) experimental back surgery, leading to voters meeting the guy at his most fatigued and loopy?
We may find out; Perry, according to Jennifer Jacobs (and at least two other reporters who followed Perry on the trip), is back in Iowa and impressing voters. The damage done by his 2012 face-plant can be seen in how Jacobs records every verbal slip.
"I know that the greatest and best years are in front of us and I know how to start us back on the track of an America that can be a beacon that's on top of a hill that's bright and that's bringing people into prosperity and hope and freedom.
"We've helped put that bluebin, that bluepin, blueprint into place." He paused and looked around with a grin. "That's a mouthful."
Still: No teleprompter. In John McCormick's story, we learn that Perry was at his best when challenging the Obama administration over immigration and saying Texas can secure the border if the feds can't. That's certainly a better approach for Perry, and a more learned approach, than his 2011 immigration reform doggedness. Everyone remembers the "oops" gaffe (which, to be fair, was so shocking it dropped the mouths of most reporters in that debate's filing center), but Perry had been softened up after he accused people critical of his Texas' tuition for illegal immigrants of lacking "heart."
Texas has changed since then. Conservatives routed slightly-less-conservative establishment candidates in this year's statewide primaries; the state GOP amended the party platform, and now opposes the tuition plan that Perry supported. If anything, Perry is more comfortable in the first primary states than he was before. The press loves a comeback story. Democrats have been cured of their brief 2011 fear of Perry, as a candidate who could excite conservatives.