The Poll That Will Make Democrats Panic About Hillary Clinton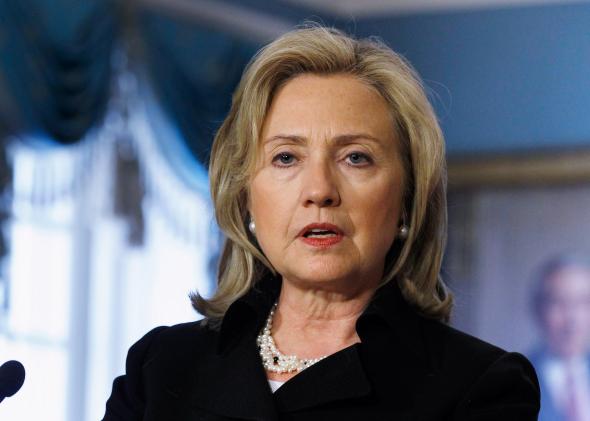 At the moment, I'm wrapping up a piece about progressive activists and Netroots Nation, having found (as most reporters found) young party activists pretty much satisfied by the promise of a Hillary 2016 campaign. Other candidates, like Elizabeth Warren and Bernie Sanders, have their adherents who want to shift the party's stances on banks, on student loans, on inequality. But few doubt that Hillary is the most electable, most Republican-infuriating candidate on the horizon.
As Maggie Haberman writes in her summary of the poll, Clinton left Foggy Bottom with a favorable rating well above 60 percent. Profiles of her tenure took for granted that she was a "rock star," a historic figure, a success. The decline is undoubtedly, as Haberman writes, tied in part to 18 months of no-end-in-sight Benghazi investigations; I wish the Politico pollster had asked voters to think of a single word to describe Clinton, because surely "Benghazi" would have erupted from most Republicans and led the list.
What else might explain the swoon? Well, turn your eyes north from Libya, up to Russia. In a piece subtly titled "Is Hillary Clinton imploding?" Jonathan Last asked readers to look at what Hillary Clinton told the BBC about the administration's Russia stance. Was it untenable? Well, according to Hillary, the thoughtful observer had to look at the situation when she arrived at State.
Medvedev is President, Putin is Prime Minister, and there were jobs that we wanted to get done. We wanted to get Russia on board with tough sanctions against Iran. We wanted to have a new START Treaty to limit nuclear weapons. We wanted to get their help in transiting across through huge country to get things we needed into Afghanistan. We got all that done. Putin comes back. Look where we are now. He invaded another country, so yes, but while we had that moment, we seized it, we used it, and succeeded.
"He invaded another country, so ... " is, to my ears, a more face-palm-worthy quote than "we were dead broke" (which was basically true) and "what difference does it make?" (which was about the Republican focus on September 2012 talking points, not a callous dismissal of dead heroes). Is there some way for Hillary to run as the person who was at the wheel before the Obama administration's policy failures? Maybe. But her re-emergence happened to coincide with a run of major setbacks, and that's complicating the story line of Clinton as a "rock star" secretary. It follows months and months of Republicans chortling at the inability of Clinton allies to name a major accomplishment. (In this interview she cites START, but her allies are really lost at sea in discussing this stuff).
So it should be interesting to see if the criticism of Clinton is turned back by an aggressive left—by David Brock's groups like Correct the Record and Media Matters, for example—or if it emboldens one of the junior Democrats to criticize her and raise speculation about primary challenges. So far, there's a little of the former and none of the latter.