Israel, Scum, and the Media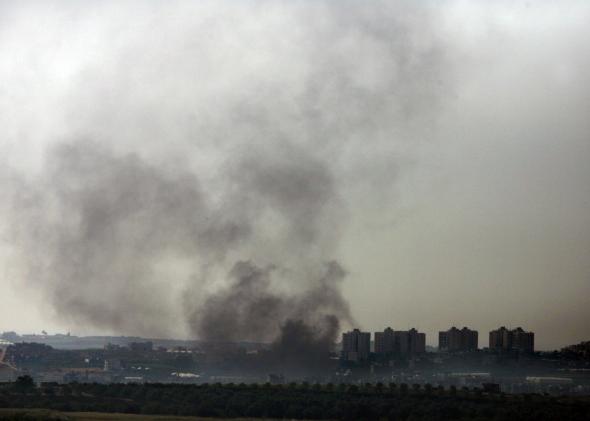 On July 17, CNN reporter Diana Magnay reported live from Israel as a rocket flew down into the Gaza Strip. Viewers watched, in real time, as (unseen) Israelis cheered the rocket's descent.
It was around this time that Magnay tweeted her frustration at reporting the story. "Israelis on hill above Sderot cheer as bombs land on #gaza," she wrote, "threaten to 'destroy our car if I say a word wrong.' Scum." As picked up by BuzzFeed, the tweet became infamous: Magnay was reassigned to Russia. But the incident was added to a sheaf of information that supporters of Israel are citing to prove that the media and American leaders are slating their coverage and actions against the state. (The idea that the "scum"-iness was about the threat to her car, not their identity, has not really been advanced.)
Example: I'm spending the day at Christians United for Israel's annual D.C. conference, where politicians and pundits gather to speak to thousands (at least 4,500) of evangelical activists. Magnay came up.
"I thank her for a moment of truth," said Gary Bauer, the social conservative organizer. The idea that the media covering the Middle East tells the truth about Israel was "a myth in itself."
After (and unrelated to) Magnay's tweet, during his battery of Sunday show interviews, Secretary of State John Kerry had a hot-mic moment and mocked the idea that Israel's strikes were really "pinpoint." As Evan McMurry reports, it's entirely possibly that Kerry said this on purpose (the 2004 Democratic presidential nominee likely knows how microphones work), to indicate where he wanted to put pressure on his upcoming Israel trip.* But Kerry's name draws instant laughs and groans at CUFI, and Sgt. Benjamin Anthony, an IDF vet who for seven years has given speeches to defend the IDF from criticism, cautioned that Kerry wanted a cease-fire.
"This fight must not be fought to a cease-fire," he said, to much applause. "This fight must be fought to a victory."
*Correction, July 21, 2014: This post originally misspelled Evan McMurry's last name.