Water Shut-Offs Are Hate Crimes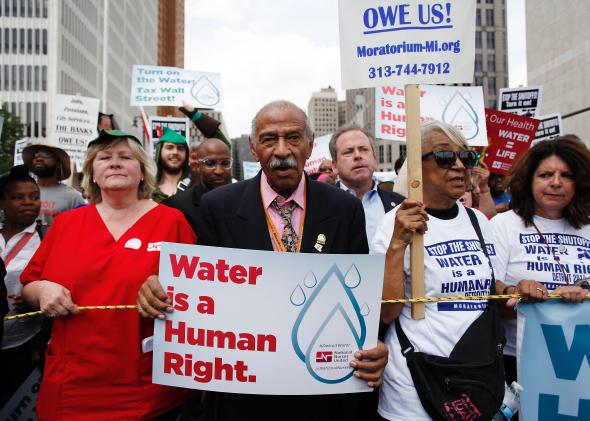 DETROIT—One of the truly great things about Netroots Nation is the annual move to a brand-new city. Only Las Vegas has hosted two of these conventions. Every other year, the circus tents have plunked into a union-friendly state (Michigan was until fairly recently) and been flavored by the local progressive movement. Last year Northern California, this year Michigan.
I think that adds to the thick aura of populism. After listening to Sen. Elizabeth Warren, Rep. Gary Peters, and Mark Ruffalo (an anti-fracking campaigner, if you didn't know), anyone who was so moved could join the National Nurses United in a protest of the city shutting off water for people who hadn't paid their water bills.*
That's a picture of a man perfecting a puppet head of Gov. Rick Snyder. (He's putting a bike helmet inside, for comfort.) The downtown protest was one of two today, and outside the Cobo Center, union organizers were joined by the Raging Grannies and all manner of young progressives, for a cause that might have been obscure outside this city, currently run by a state-appointed emergency manager. Those without signs were handed fresh ones, from MORATIUM-MI, with the slogan
STOP THE SHUTOFFS! Turn it on!
WATER is a HUMAN RIGHT
Being unable to cover the protest, this quote from UAW President Dennis Williams will have to do as a descriptor.
Government didn't give us water. It is a natural resource. It is not owned by corporation (or) by City Hall. It is owned by the people of this land.
Most of it happened when I was covering Peters' "grassroots fundraiser" with Warren. The water issue was not mentioned. When I got back, a female protester, her shirt adorned with cause buttons and her arms carrying one of the signs, filled me in on how the protest route included a stop at "Jamie Dimon's office," aka the Chase Bank building.
"We didn't do anything," she said, "but we made some noise."
*Correction, July 20, 2014: This post originally misstated that Elizabeth Warren is a representative. She is a senator.