Scott Brown's Bathroom Break, and the Worst Tracker of 2014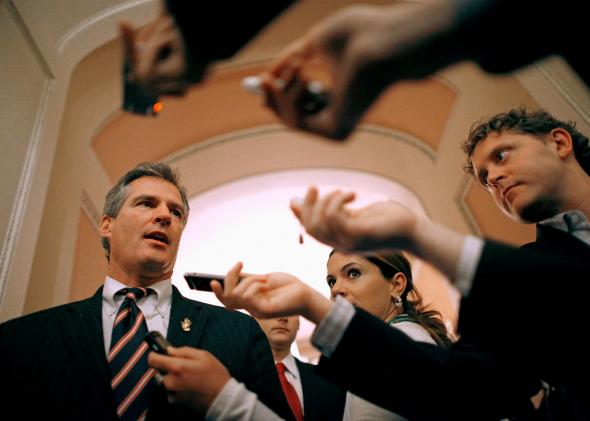 A few months ago, I was talking to a Republican congressman as he walked from one of the party's conference meetings in the House basement. Paul Lewis, a reporter for the Guardian, joined the scrum and started asking the congressman the same question about the debt limit, again and again and again. We hit a turn, and Lewis drew closer to the congressman -- who drew back and snapped at the reporter to give him space.
"Man," I thought, "British reporters do not take fluff for an answer."
That's my prologue to Lewis's piece about Scott Brown's Senate campaign in New Hampshire, which has delighted Democrats for all of the details about Brown dodging questions. When Lewis tries to ask about Hobby Lobby in a diner, Brown says "I'm all set" and avoids the question. (That non sequitur is Brown's preferred method of blowing off questions.) Brown "takes shelter" in a bathroom, but Lewis follows him, and at another event the former senator snaps at the reporter for being "unprofessional" by showing up to events not meant for the press.
It's all very sad and funny, but not uncommon. Most of the time, the downside of blowing off a reporter's question or denying him access to an event is no downside -- the busy reporter has nothing for his story. New Hampshire is also the home to one 2014's least effective tracker operations, which runs into this same issue. Citizens for Strong New Hampshire, a conservative non-profit, keeps showing up at Democratic events and trying to cobble together clips after getting shut out.
Example: The most recent video asks whether "only certain New Hampshire veterans" matter to Sen. Jeanne Shaheen, as the ED of Citizens for a Strong New Hampshire wasn't allowed into an event where veterans were endorsing Shaheen.
A previous video went after Shaheen for... dodging a question.
Another grabs Shaheen insisting that "nobody's right 99 percent of the time," which is a pretty stupid way of dismantling the generally stupid practice of ranking how liberal senators are by how much they vote with the White House.
And so on. CSNH does not lack for money, but it lacks material. A bad speller like myself shouldn't point this out, but it's even run a hit on Shaheen's voting record that bungled the spelling of "disastrous."
Neither Lewis nor the trackers are actually getting answers, much less newsy answers, or gaffes. They are doing what they can with politicians who make the calculus that they should talk on the record as little as possible. The non-answer becomes the story.