Chris McDaniel Supporters: Cochran's Black Voter Outreach Took Race Relations Back 50 Years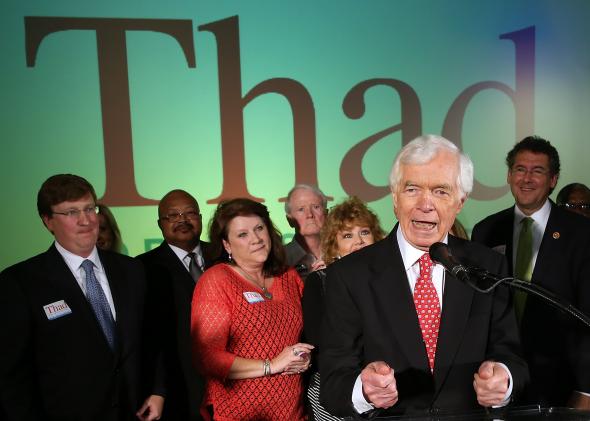 Three weeks and one day after Mississippi's Republican runoff ended, attorneys for state Sen. Chris McDaniel held a press conference—their second—describing what might constitute a challenge of Sen. Thad Cochran's win.
"There's already enough evidence to file the challenge," said Mitch Tyner, the lead attorney for the insurgent Republican.
That did not mean that the campaign had found more votes cast by Democrats than votes separating Cochran from McDaniel. "There's really not a vote number threshold," said Tyner. (Mississippi law prevents anyone from voting in one party's primary and the other party's runoff for the same election.) It meant that the state had played hide-the-poll book, and made it difficult to trace how many such votes were cast.
"Call us naive," said Tyner. "Call Chris McDaniel naive. He had no [idea] this amount of election fraud was going on. In my heart, I believe Chris McDaniel won the primary and a runoff was not necessary."
Tyner was joined by state Sen. Michael Watson, a colleague of McDaniel who asked why more Republicans weren't outraged at how the campaign ended. When they saw the ads paid for by a firm paid by the NRSC, the ads that warned black voters that McDaniel wanted to suppress their vote—this, when the campaign was only protesting illegal votes—the Republicans should have exclaimed something like "Dear God, you improperly used my money."
"Where is Reince Priebus?" asked Watson. "Where is the Republican Party? Where is the leadership that comes out and says, that was wrong, and that will not happen again?"
Tyner went even further. "The activities of the Cochran campaign are abhorrent," said Tyner. "The Cochran campaign, through their race-baiting—and let me tell you something, this is U.S. senators, this is coming straight from the top—took Mississippi back 50 years in race relations. Michael Watson will tell you, as a conservative white man in the Mississippi legislature, his fellow black senators have a level of discomfort when they begin to deal with him."
He repeated the charge. "The Cochran campaign, through race baiting took us back 50 years," he said. "United States senators contributed money for ads to call Chris McDaniel a racist, and to motivate black Democrats, through hatred, to come out and vote for Thad Cochran."
All of this, said Tyner, demonstrated why the total current count of "illegal votes" might not be necessary to challenge the election. There only needed to be doubt that accurate records were kept—or were at least kept from examination by McDaniel's volunteers during the brief post-election vetting period. Mississippians did not know how many people in the ballyhooed Cochran outreach campaign had voted Democratic on June 3, then come out and voted against McDaniel.
"Every one of those votes diluted a real vote," he said. "And it does matter."
Update: While watching the press conference (from the air-conditioned comfort of D.C.), I fired off a few live tweets about the lines that stuck out. This one, for example:
McDaniel's attorney now saying that votes from black Dems "diluted the REAL vote." #mssen

— daveweigel (@daveweigel) July 16, 2014
That cheesed off a number of conservatives, who accused me of planting words in Tyner's mouth. He wasn't talking about black Democrats! He was talking about illegal voters!
But that's the McDaniel campaign's awkward quandary. In Mississippi, like in no other state, race is a strong predictor of party allegiance. More than 90 percent of black voters go for Democrats (though Cochran's opponents sometimes settle for more than 80 percent); around 90 percent of whites go for Republicans. Cochran's campaign has spoken proudly of its outreach to black voters; reporters confirm that it worked.
And Tyner spent much of his press conference explaining why that outreach was "abhorrent." McDaniel's team is trying to prove that enough illegal votes were cast to flip the election results, and it just so happens that the most likely sources of these votes were black precincts. It's just a very hard argument to make while remaining gaffe-less and genteel.