Behold, Paul Ryan's Non-Answers About Climate Change and Medicaid Expansion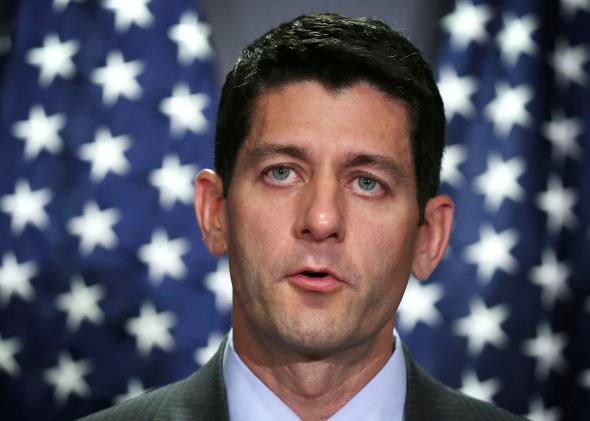 The reporters at Elizabeth Warren's West Virginia rally for Natalie Tennant noted that the Massachusetts senator did not stick around for questions, or submit to a scrum of reporters. (In the Senate, she generally does not stop and talk to the beat reporters who show up.) This saved her from having to answer, probably, questions about coal, where she would have had to stitch together several different versions of "we disagree." But almost simultaneously, Rep. Paul Ryan was in Charleston, a few hours down the highway, endorsing Tennant's opponent (who reminded everyone that "every county" in the state wanted the guy to be veep). He got questions; he dodged.
After the event, the Wisconsin congressman declined to say whether he thought carbon dioxide emissions cause global warming, something that is agreed upon by an overwhelming majority of experts.
"I'm not going to get into that whole debate," Ryan said. "Let me just keep at this, which is I think these coal regs are obnoxious, I think they're exceeding their authority and I think they kill jobs."
Capito has repeatedly declined to respond to the Gazette when asked if she agrees with the scientific consensus on global warming.
... Ryan, whose home state of Wisconsin did not expand Medicaid, declined to say whether he thought West Virginia made the right decision in doing so.
"I'm not going to go into what each state did or didn't do," he said. "There are better ways of extending health insurance to the uninsured. We can have a system in America where we have everyone have access to affordable health insurance."
In 2012, West Virginia voters voted for the Romney-Ryan ticket by a landslide, seemingly endorsing the GOP platform. At the same time, it re-elected Gov. Earl Ray Tomblin, who presided over the decision to expand Medicaid; it re-elected Sen. Joe Manchin, who had voted against aborting Obamacare; it elected, albeit with smaller margins, a Democratic legislature. Hard to conclude, from this, whether the Elizabeth Warren avatar or the Paul Ryan avatar plays in the red states.