Why Rahm Emanuel's Donors Are Getting Frisky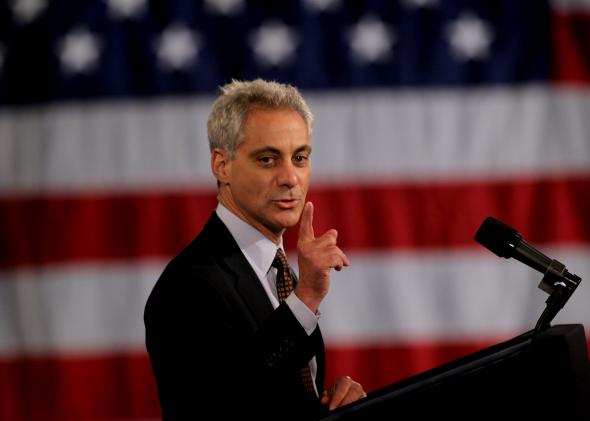 When a politico's first on-the-record response to a poll number is "wow," you know it's good for them. "Wow" is what Karen Lewis, president of the Chicago Teachers Union, told the Chicago Sun-Times after being informed that she would easily lead Rahm Emanuel in a mayoral election. In an automated poll of more than 1,000 voters, Lewis led Emanuel by a 45–36 margin, cutting into every group that backed him four years ago. She trailed by only 3 points with white voters, led by 4 points with Hispanics, and led by 18 points with black voters—a margin that might increase if Lewis ran and black voters discovered that she, too, was black. And Cook County Board President Toni Preckwinkle (a black woman, like Lewis) led Emanuel by 24 points.
Emanuel's weakness has been known for months—he lost the left ages ago, and has lost Chicagoans more generally over basic competence issues. In the Sun-Times, his response to the poll is an anonymous insult, "laughable." But this same pollster nailed the 2011 race, which Emanuel entered late and won. Not a single about that year showed him trailing, and the final poll correctly estimated that he'd win with around 55 percent of the vote in a crowded field. If "the left" is looking for a heel to take down, Emanuel's infinitely more vulnerable than New York Gov. Andrew Cuomo. (Cuomo still polls favorably among Democrats.)
Here's the twist, which doubles as the reason we know Emanuel's camp believes the polling. At the end of June, Emanuel supporters launched a super PAC (yes, super PACs for mayoral races) to vacuum up hedge fund money. It worked, and in 10 days Chicago Forward announced $1 million in funds—from just eight people. Hedge funder Ken Griffin, who had just given $2.5 million to a PAC for the (independently wealthy) GOP gubernatorial candidate, gave $150,000 to Emanuel.
Preckwinkle raised a little more than $150,000 in three months this year.
It's a heartbreak for Emanuel's opponents, which for the moment include most voters in Chicago politics. On an even playing field, the mayor could be defeated easily. But he is building a megastadium, and his opponents maybe have enough money to throw together a batting cage.** Neither Lewis (who's never won an election) or Preckwinkle (who's in her 60s) is an ideal Democratic candidate, but no "ideal" candidate wants to rise up only to be buried under millions of dollars in super PAC money.
**I'm really not the one to make sports metaphors. Tell me how I'm doing.
Correction, July 14, 2014: This post originally misspelled Toni Preckwinkle's first name.
Correction, July 15, 2014: The headline for this post originaly misstated that Rahm Emanuel trailed his "primary challenger" by 22 points. The post also misstated that Emanuel "lost Democratic primary votes." Emanuel is facing a general election challenger. The headline has been changed.