The Plot to Bring Down Bob Menendez Was Actually Brilliant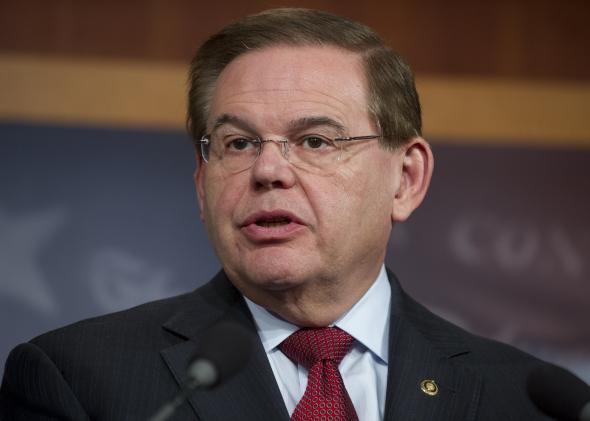 This morning's post about the great Bob Menendez turned into an epic prose poem about how a fake story got out of hand. It happens. But on the way out the door, it's worth considering what the Cubans—if they were behind the story, as Menendez and investigators now think—hoped to get out of the operation. (I hope the operation had a good code name.)
In November 2012, when the Daily Caller ran its first story on the anonymous prostitutes who claimed to have serviced Menendez, the senator was being re-elected to a full term. He was next in line to run the Senate Foreign Relations Committee if two things happened—if his party held the Senate, and if John Kerry became secretary of state. Jackpot, jackpot.
All of a sudden, the top Democrat on Foreign Relations was a Cuban-American with a deeply felt and idiosyncratic support for continuing the embargo on the Castros' state. Next in line was California Sen. Barbara Boxer, who had called the embargo "deeply foolish." But really, any Democrat would be less resolute on the embargo than Menendez.
And Menendez takes some hits to the body. The salacious rumors draw attention—political reporters are aware of it, if skeptical of a story they can't confirm—and in early 2013, there's more heat than there would have been otherwise when an office belonging to Menendez's travel buddy/donor Salomon Melgen is raided by the FBI. In February 2013 the New York Times calls on Menendez's Senate colleagues to strip him of his gavel. The biggest newspapers in New Jersey question Menendez's fitness for office, to say nothing of his heavy new responsibilities. Had Menendez stepped away from the committee, or had he resigned, the most powerful Cuba hardliner in the Capitol would have been replaced.
Whoever was behind this took advantage of rumors about Menendez in an attempt to make an Anthony Weiner* out of him. Very clever—doubly clever, when you consider that the story was laundered by Republican operatives (who flogged it to ABC News) and a conservative website.
(Some insights here were provided by my friend, former colleague, and on-the-record Cuban source Matthew Yglesias.)
*Maybe the plotters were unaware of Louisiana Sen. David Vitter, who was ensnarled in his first term by the D.C. Madam scandal, won easy re-election in 2010, and is the odds-on favorite to become governor in 2015.