The Elizabeth Warren Demonization Society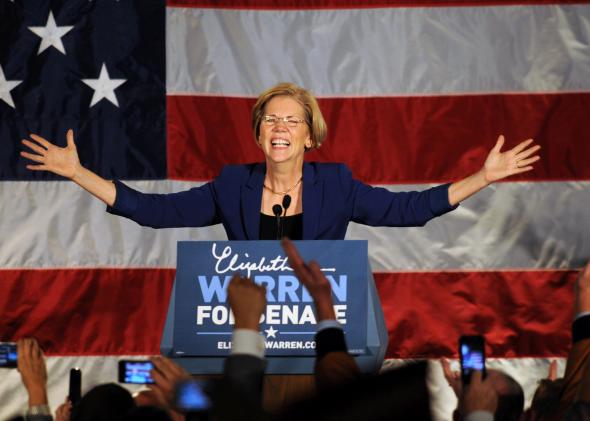 Last weekend, Sen. Elizabeth Warren traveled to Kentucky to stump for Senate candidate Alison Lundergan Grimes. The Democratic secretary of state has remained competitive in the race against Sen. Mitch McConnell, and has thus far avoided the damage from some concerted Republican trolling tying her to the Obama administration. Like West Virginia's Natalie Tennant, she's attempting to run as an anti-"Washington" candidate who'll also oppose EPA rules. Tenannt, too, is going to get a campaign visit from Elizabeth Warren this month.
The Republican reaction to the Warren visits has been wholly predictable. "If she's elected her only problem with Barack Obama would be that occasionally he's not liberal enough for her taste," said a McConnell spokesman of Grimes. American Crossroads welcomed Warren to Kentucky with this Web ad, calling Warren the "queen of class warfare" by applying a Tim and Eric-style cut to her 2011 speech about what the rich owe the American system.
The coal thing I get; the EPA thing I get. "The underwhelming candidate has not only failed to separate from the liberal left's anti-coal leaders like Barack Obama, Harry Reid and Elizabeth Warren," said NRSC spokeswoman Brook Hougesen, "she has cozied up to them."* Noted. A Democrat in coal country cannot be trusted unless he/she starts each day with a rant against the EPA and a heaping bowl of coal flakes.
But the rest of the political messaging here seems fairly rote. What is Warren talking about when she credits Obama for "squaring his shoulders" and fighting? The creation of the Consumer Finance Protection Bureau, opposed by Republicans in Congress but favored by as many as three out of four voters. How unpopular was Warren's "the rich should pay more taxes" riff? Very popular; at the time she said it, voters approved of raising the top tax rate by a 2-to-1 margin.
What makes Warren so fascinating is that her Senate career is the third or fourth act in a fairly long and uncontroversial career as a bankruptcy and finance analyst. In 1999, before Scott Brown was even a state senator, Warren was publishing books about bankruptcy; in 2004 she was appearing on Oprah to talk about personal finance. It's relatively unusual to see someone enjoy a long public career divorced from partisan politics, and then run for office in his/her 60s. Well into her 40s, Warren was actually a Republican.
Does this make her above reproach? Ha, of course not. It's just interesting to watch voters in red states, who likely have unformed opinions of Warren, be told that she is a far-left Democrat more left-wing than Barack Obama. It plays right into Warren's hands, just as attacks from the Chamber of Commerce on Republicans who want to kill the Export-Import Bank play into their hands. It forgets just how far Rand Paul got in 2010 by portraying Washington as the puppeteer and puppet of bailed-out banks.
Warren's trying to remain identified with an issue-specific populism that was broadly popular before she entered politics. Republicans are trying to blur lines and portray anything she does as hopelessly far-left. Didn't really work in 2012; similar tactics and arguments haven't really dented the appeal of Rand Paul. The greater danger, it would seem, is running on absolutely nothing.
*Correction, July 3, 2014: This post originally misspelled NRSC spokeswoman Brook Hougesen's first name.