And We Would Have Passed Immigration Reform if It Wasn't for Those Meddling Kids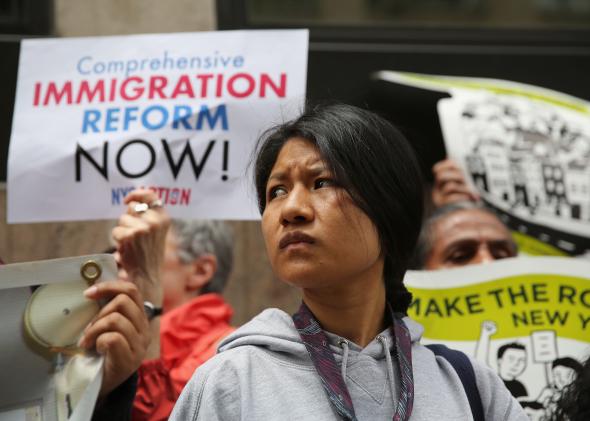 Mickey Kaus has a lot of fun with Rep. Mario Diaz-Balart, the Florida Republican who had refused to let the lamp dim for immigration reform, and who (according to Politico) was this close to getting a damn bill. According to a superb Sueng Min Kim and Carrie Budoff Brown history of "how immigration reform died," Republicans were closer than anyone knew to maybe sort of introducing a bill that a majority of their conference could support. "Rep. Mario Diaz-Balart (R-Fla.) had been quietly shopping a PowerPoint presentation of a border enforcement and legalization bill to his colleagues and secured soft commitments from at least 120 Republicans," they report.
Kaus is skeptical. So am I—not of the reporting, but of Diaz-Balart's own reliability as a narrator. He has been claiming that he had legislative language and was on the cusp of a breakthrough for at least six months.
Politically, it has always been a very difficult issue — very difficult, very controversial, very emotional, very difficult issue. So it's a big ask, but I think there's a lot of people here who are willing to do what they believe is right for the country even above personal, political considerations.

Can you draft legislation that has serious border and interior security, with sufficient leverage to force this or future administrations? I think we have drafted a way to actually do that. Can we deal with the undocumented in a way that is fair, that makes sense, that adheres strictly to the rule of law? I think we've also cracked that nut.
Can we deal with the folks that are here in a way that is reasonable, that does not violate the rights of folks who have done things legally, [and] can we strictly adhere to the rule of law? Some of us think we've achieved that magic formula.

I'm out there speaking to colleagues on the issue, and every day I get more and more members who understand that what we have right now is unacceptable.

Every day I'm getting more and more Republicans — conservatives — who are frankly approaching me saying, 'How do we move forward?' I feel very very confident that a majority — a strong majority — of Republicans want to finally tackle this system that everyone understands is broken — with some caveats.
The majority of the Republican conference wants to move forward. We still have a shot.
Note that Eric Cantor lost his primary on June 10, and this was apparently the incident that killed Diaz-Balart's momentum (if you can call six months of the same thing "momentum"). Twenty days later, Diaz-Balart was doing his best impression of Kevin Bacon in Animal House.
The reader of that Politico story gets the impression that immigration activists were naive about the House, that they should have worked it harder and earlier. Well, if they were listening to Mario Diaz-Balart, they had nothing to worry about! He had legislation ready to go. Not that you or anyone else could look at it.