The Single Best Sign That Clintonworld Is Taking 2016 Seriously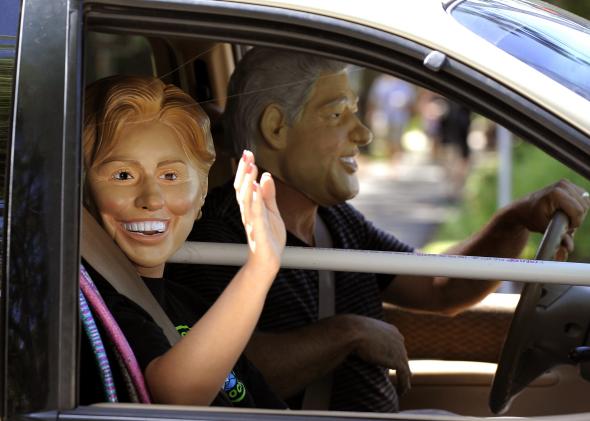 There's been a decent amount of attention focused on the GOP's efforts to scale back the caucus system. It's generally (and correctly) understood that the nonbinding caucuses made it easier for activists to overwhelm establishment Republicans and deliver "wins" (which could be overturned in state conventions, after the media stopped paying attention) to Ron Paul and Rick Santorum.
Now Mark Barabak reports that Iowa Democrats are doing some pruning of their own.
Spurred in part by pressure from the party's national leadership — which includes a number of Clinton allies — the Iowa party is considering ways to expand participation in its caucuses, which have been structured in ways that prevent many voters from taking part.
Possible changes include the use of absentee ballots and online voting, allowing those physically absent to participate in the caucuses, which typically occur on a cold winter night and last for hours.
The problem, as Barabak points out, is that turning Iowa into a "primary" state would upset the subtle, ridiculous balance by which the parties keep New Hampshire from losing its "first in the nation" primary and presumably seceding to Canada. The benefit is that a candidate with more soft appeal and less base appeal does better in a primary. Thus: This is good for Hillary Clinton.
It is, though the caucus system in Iowa wasn't Hillary's worst problem in 2008. People forget this, but Hillary struggled throughout 2007 in the Hawkeye State. John Edwards had nearly won the state in 2004; Barack Obama represented a state that shared a border with Iowa. (Illinois, if you've forgotten.) In the first Des Moines Register poll of 2007, Hillary polled third among Iowa Dems, with 21 percent support to Obama's 23 percent and Edwards' 29 percent. Edwards never actually improved on that, but Hillary ended up losing to him by 0.3 percent as Obama surged into the lead.
Iowa's just not a problem for Hillary anymore. In polling this year, her total support has ranged from 59 to 71 percent. What compounded Hillary's problems in 2008 was that Obama out-hustled her in every subsequent caucus, winning 13 of the 14 caucus states. (Hillary won only the popular vote in Nevada, and ended up taking fewer delegates than Obama because he even out-hustled her in congressional district math.)
This was the fatal mistake of the 2008 campaign. It's the best evidence Republicans have when they argue that Clinton is an overrated, error-prone candidate. The news that her allies are looking ahead to shaping and organizing even one caucus state suggests they've actually learned something in six years. (It also means that a future—2024?—Democratic insurgent will have an even tougher time breaking out.)