The Pathetic Conclusion of Immigration Reform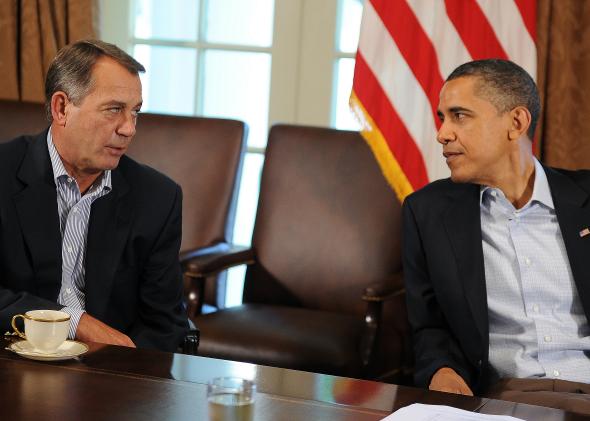 A few months ago, during a slow recess (and back in his district), John Boehner made a little joke about the reluctance of his conference to back immigration reform. Everyone was in on the meaning of the joke -- Boehner himself was completely ready for a vote, and maybe even sort of working toward one.
After this achieved virality, Boehner returned to DC to explain that he didn't mean to insult anyone.
And yet over the weekend and today it was confirmed that the Speaker of the House has bailed on immigration reform, and told the White House as much. That led to today's Obama speech in the Rose Garden, where the president chided the House for not passing a "darn bill" and made good on the threat activists had wanted from him -- to remake the immigration system with executive orders. This way, everyone returns to their silos. Republican members of Congress get to tell their constituents that they killed the bill, and that Obama is a tyrant. Democrats, whose base got far less from the implosion of the negotiations, have to settle for the argument Republicans aways accused them of making to Hispanic voters -- that they needed to elect more Democrats, and beat these guys.
Even if you wanted the bill to die, you can hardly imagine a more pathetic finish, or one more calibrated to the weakness and save-my-job mentality of the Republicans. The argument leaders made in January, when the annual retreat produced some mealy immigration "principles" was that primary season would be over by summer and newly calm incumbents could vote for a bill. This was on its way to being true, and only two incumbents lost their primaries in the cycle. The trouble was that one of them was Eric Cantor, and the talk radio backers of Dave Brat's campaign were explicit about making Cantor a casualty of immigration reform.