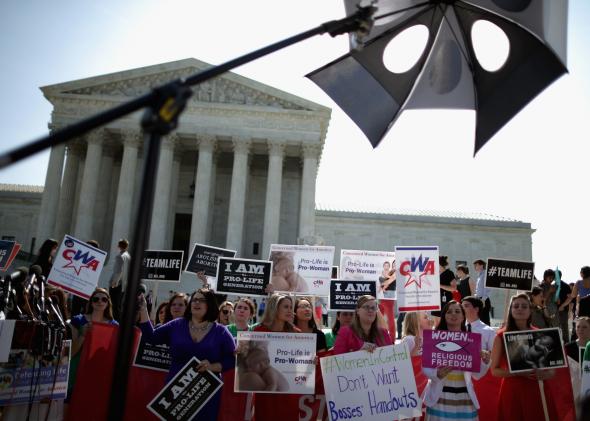 Knowing that my Slate colleagues would climb all over the details of today's SCOTUS decisions, I spent the late morning at the circus. Around 10 a.m. I ducked around the cement truck that cuts off the space in front of the court, and saw a sign reading "CWA."
What was this? Were labor groups rallying outside the court to react to Harris v. Quinn, the case that threatened to undermine public-sector unions by freeing some workers from paying dues?
No, it was a sign for the faded but still omnipresent Concerned Women for America, in a cluster of protesters waiting for the Hobby Lobby decision. There was no labor presence there to react or chant when Harris came down, and no one in the crowd was really talking about it. (Lucky for labor, the decision fell far short of the precedent-slashing, union-killing nightmare that was imagined when Sam Alito was announced as the author. "Partial public employees" would be spared from paying dues, but not other workers.)
The abortion rights protesters ran the square, with their most camera-friendly interns and staffers lofting signs, joined by the mainstays of all abortion decision circuses. The "truth truck" guy, who drives around the city with a vehicle wrapped by pictures of dead fetuses. The dude wearing a Bible costume that covered his entire body, exposing only his lower legs and black-socked ankles.
I navigated past the crowd, which meant skipping the pro-life groups (who were giving reporters some quotes about how the left dehumanized women) and standing among the pro-choicers. They had adapted the amusingly realistic chant now being deployed for the U.S. soccer team: I believe! I believe that! I believe that we! I believe that we will! I believe that we will win!
The chanting made even less sense in the context of an Alito-written opinion, being handed off and run over to reporters, than in the context of a busy soccer game. Around 10:20, a cheer went up from the distant pro-life cluster. They had read the decision, and they'd won; the majority even took for granted that "plaintiffs have religious reasons for providing health-insurance coverage for their employees."
The pro-choicers around me shared a look, then jumped right into a new chant: "Pro-life, that's a lie, you don't care if women die." Belief isn't everything, unless you happen to own a hobby supply chain.