Kevin McCarthy Won the Lottery, But Don't Call Him Lucky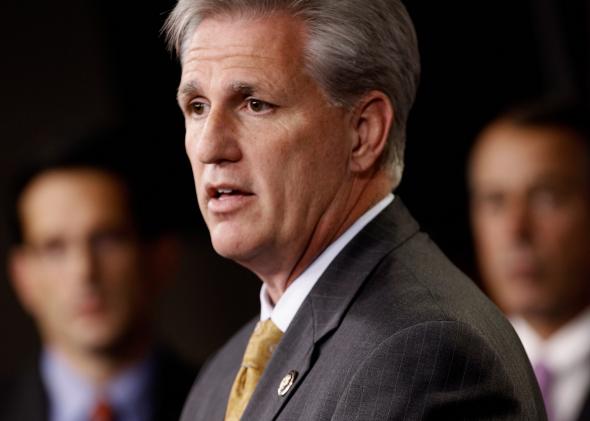 Never take investment advice from Rep. Kevin McCarthy. Among the things he believes he's done right are winning the lottery, dropping out of college (he returned years later), and rolling his winnings into a single stock, opening up a deli, and eventually becoming a congressman.
He worked hard and took risks, he told a gathering of Republican loyalists today: A coronation speech, after he beat out Rep. Raul Labrador yesterday to replace Rep. Eric Cantor to become House Majority Leader. He was addressing the friendliest of crowds—Tea Party folk and social conservatives at the Road to Majority conference in Washington, D.C.. It is put on by the Faith and Freedom Coalition, a lobby group headed by Ralph Reed, the influential, well connected long-time conservative activist. Among the guest-list this year were Sen. Marco Rubio, Sen. Ted Cruz, and Gov. Chris Christie (who declined to attend last year, in favor of going to an event at the Clinton Global Initiative instead). That McCarthy won his promotion to the second-most powerful position in the House less than 24 hours earlier was a nice boon for Reed's conference. (In the program, the congressman is still listed as the "Majority Whip.")
McCarthy's image of himself as a bootstrapping entrepreneur reflects a particular conservative vision. When it comes to success, conservatives routinely underestimate the role of things beyond their control. They are more likely to ascribe life's outcomes to hard work and personal character rather than luck or social environment—the logic behind the oft-repeated Republican trope that welfare leads to disempowerment, and that taxpayers shouldn't be paying for it. If only people worked hard, good things will follow. Bad things happen because of insouciance and dependency, when people fail to take "personal responsibility."
But is there anything luckier than winning the lottery? That McCarthy could tell such a story, with himself in the role of the tireless American hero whose success is earned, suggests the lack of empathy that colors his political philosophy. Most Americans work very hard. But most of them don't win Powerball. "If I was successful, I didn't want the government to take all my profits, but if I failed I didn't want government to bail me out either," McCarthy said. The next Majority Leader apparently doesn't realize that winning the lottery falls within the quintessential definition of "a government hand-out": a ticket to wealth courtesy of the state of California's taxpayers.