Steve Scalise Is Your New House Majority Whip. Here's Why He Can Rule Forever.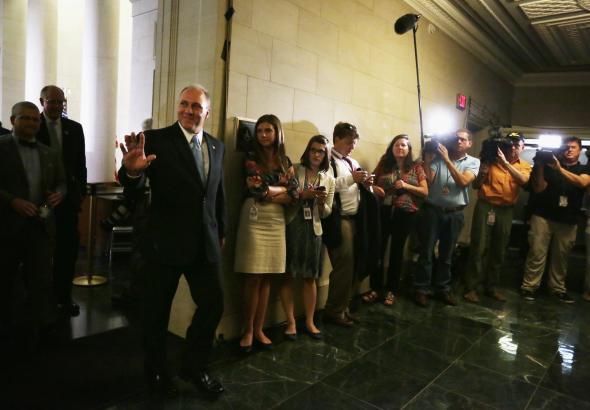 What's the opposite of a "political earthquake"? If the primary defeat of Rep. Eric Cantor drained D.C.'s supply of dramatic analogies, the snap leadership election surprised almost no one. Rep. Kevin McCarthy, the party's occasionally competent whip, easily took Cantor's old job after a furtive conservative challenge from Rep. Raul Labrador. And Rep. Steve Scalise, a Louisiana conservative who had been leading the Republican Study Committee, nabbed McCarthy's job in one ballot.
If you're looking for a "conservative victory" here, look to Scalise. The fast-talking Southerner bested Rep. Peter Roskam, a deputy whip who'd been groomed for big things, and Rep. Marlin Stutzman, a sort-of Tea Party candidate who nonetheless gets farm subsidies back home in Indiana. He becomes, as some reporters quickly pointed out, the first Republican from a "red" state to take a leadership job since Barack Obama won the presidency.
But "red state" is a sort of useless term when you're talking about congressmen. The victories of McCarthy and Scalise are good news for Republicans who want to avoid future Cantordammerung-style upsets.
Why? Simple: There are three states where party primaries have been replaced by jungle primaries, followed by runoffs between the top two finishers. After John Boehner, the rest of the GOP's leadership hails from these states. McCarthy is from California; Scalise is from Louisiana; Cathy McMorris Rodgers is from Washington. In none of these states can a conservative sneak into a low-turnout primary and defeat an incumbent with 5 percent or 6 percent turnout.
And in all of these states, for 2014, the leaders are safe as milk. McCarthy has no challenger for the fall. Scalise is being challenged by a Libertarian candidate. Rodgers has a couple of token challengers, but if one managed to get more votes than her in the Aug. 5 primary, it wouldn't matter: They'd face off again in November, when the whole midterm electorate will be out.