Filing Bogus Ethics Complaints for Fun and Profit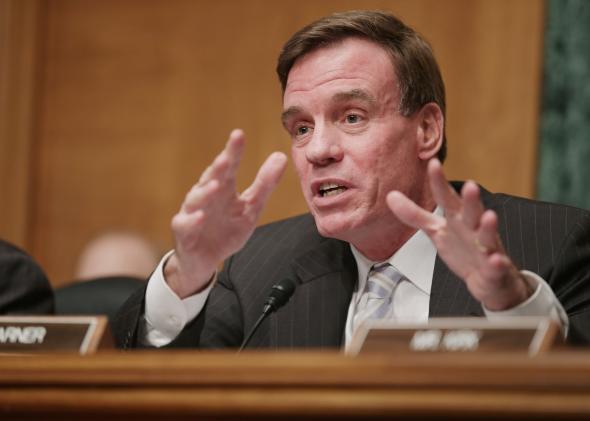 What does it say that my preferred method of taking a break from book-writing is writing about a stupid political controversy? Nothing good. But here we are again.
Virginia Sen. Mark Warner is the state's most popular politician, by some distance. He's only won two races, one for governor in 2001 and one for Senate in 2008, but he took that second race by a 31-point landslide. Former RNC chairman Ed Gillespie, a consummate Republican fixer (and the architect of the party's 2010 state legislative wins that many, many Republicans can count on for a decade of helpful gerrymanders), jumped into the race in December, promising to make a fight out of it and force Warner to grudgingly open a campaign account that had scared off everyone else. It's generally accepted that 1) Gillespie is doing a good job of this, getting to know the grassroots and setting up a future run for something else, because 2) Warner, who easily leads in polls, will win.
The senator's job becomes easier when the opposition kicks an own goal. On June 17, the Republican Party of Virginia filed an ethics complaint against Warner, something literally anyone can do to any senator at any time. Sometimes the complaints are legit; sometimes they're dilatory. The bet is that initial coverage of the complaint gets more coverage than the subsequent dismissal, and that voters will not take the time to follow the incomprehensible and snail-speed proceedings of congressional ethics committees.
But this complaint is almost heroic in its stupidity and capacity to insult reporters' intelligence. The key part:
The complaint itself disproves the claim. If you click through to the ad, you see this image of Warner in the Senate.
That's not what images from "television coverage of the proceedings of the Senate" look like. Cameras are staged at the front of the room, not the sides, certainly not where they can get textured action shots. This is an AP photo of Warner at a March 5 budget committee meeting, as I found via the innovative reporting techique of going to the AP's photo collection and typing "Mark Warner" into the search bar.
For comparison, here's how the budget committee's own camera positioned Warner.
To any reporter with rudimentary knowledge of the Senate and these rules, this was an obviously dilatory complaint. The first reporter who got both sides of the story, Elizabeth Titus, found as much. From her (locked) Politico Pro piece:
[Republican Party of Virginia chairman Pat Mullins] cited Louisiana Democratic Sen. Mary Landrieu's recent hearing reenactment as an example of a lawmaker going to an "extreme length" to avoid running afoul of Senate rules. According to NBC News, they bar government-camera footage in campaign material, even if re-broadcast by the media.
POLITICO asked how that squared with an online search showing the photo was taken by a journalist.
"Senators have an obligation to obey both the spirit and the letter of the rule," RPV spokesman Garren Shipley said in an email. "If it were permissible to use images from media outlets, there would simply be no point to the rule at all."
The spirit of the law! Here I've been assuming this was a hack attempt to get "senator hit with ethics charge" into the news, only to learn there's a regular Montesquieu working at the RPV. Impressive, but not very effective -- the only acknowledgement of the complaint so far has come from that Politico story, this blog post, and tweets from Republicans working to elect Gillespie. (The Politico Pro piece was actually pushed out by the National Republican Senatorial Committee, likely because the neutral headline -- "Warner, Virginia GOP spar over Senate photo" -- is the best the Republicans have been able to get.)
According to the NRSC, "Mark Warner's made up 'journalism' exception does not exist and is not found in the actual rule," which is an awfully deductive way of reading a law that only prohibits Senate footage if it's taken from "radio or television" coverage. (One example: This American Crossroads GPS ad that attacks Sen. Kay Hagan with footage from a Senate speech.)
It's all quite ridiculous. Yet Republicans can make a total dog's breakfast of the Virginia race, lose, and win the Senate anyway. There are at least eight or nine targets more tempting than Virginia. In this race, they're just exhibiting a shamelessness that says they're ready to fight deep into enemy turf, whether or not they've got actual weapons.
(Sidebar: The "no floor/committee footage in TV ads" rule is stupendously outdated in the age of online video. Just as Rep. Joe Garcia, who picked his ear during a hearing, saw clips of it go viral, and saw the third party Libre Initiative run TV ads featuring the clip.)