Arizona Congressional Race Devolves Into War Over Hispanic Surnames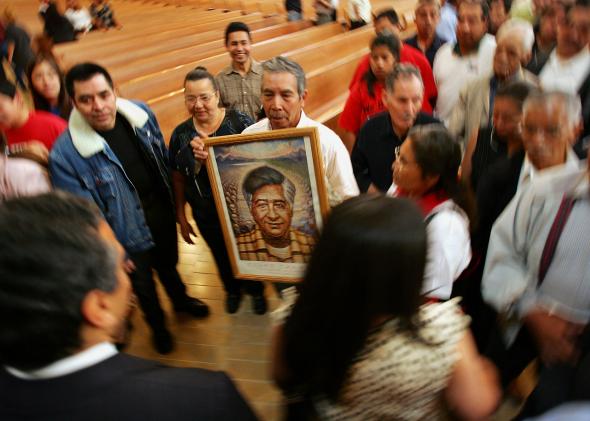 On Aug. 26, Democratic voters in Arizona will choose a successor to 7th Congressional District Rep. Ed Pastor. It's a safe, blue seat, covering the most liberal parts of Phoenix and Glendale. And it's heavily Hispanic. That's what led a Republican trickster named Scott Fistler to pay $319 to legally change his name, to "Cesar Chavez," and attempt to get on the ballot.
It was difficult to overstate the chintziness of the move. On his website (now offline), Fistler posted pictures of mobs of people marching in "Chavez" shirts—he took them from rallies for the late Venezeulan President Hugo Chavez. When I was in Phoenix last week, it was widely understood that Fistler would face challenges to his ballot petitions. In interviews, he's responded to the challenges by saying "the Cesar Chavez train is smoking and it's not going to stop until the election" and "my campaign is too legit to quit." So we're not talking about a serious person.
Here's where the story veers into pure derp. Ready? OK.
Fistler's "Hispanic" name potentially posed a challenge for 34-year-old former state Rep. Ruben Gallego, the first candidate who entered the race to replace Pastor. An Iraq war veteran and former state House minority whip, Gallego had built a significant power base in the district. In 2013, his wife, Kate—who's not Hispanic, but took his name, obviously—won a seat on the city council. The point is that having a Hispanic name doesn't hurt in a district that's largely Hispanic.
But Gallego's biggest challenge (according to polls) comes from Maricopa County Supervisor Mary Rose Wilcox. She's Hispanic, actually, born Mary Rose Garrido in 1949, and she's endorsed by the retiring Pastor.*
Back to "Cesar Chavez." Gallego (who's endorsed, funnily enough, by the real Cesar Chavez's close ally Dolores Huerta) probably stood to benefit if a challenge to "Chavez" knocked him off the ballot. (Among his other jackasseries, Fistler did not become a Democrat until after circulating nomination petitions for weeks.) Enter Michael Snitz, a fringe candidate for state House who had tangled with Gallego before, after Snitz had attacked a veteran-turned-candidate for lacking "life experience." Snitz challenged Gallego for having changed his name in 2008, from Ruben Marinelarena to Ruben Gallego.
At this point you might naturally ask something like "Why did Gallego change his name?" or "Why would 'Marinelarena' not be a solid name for a Hispanic district?" I can't answer the second question, but as to the first: Gallego legally adopted his mother's maiden name in 2008, after his military service ended. His father had abandoned the family when Gallego was 11 years old; as Gallego's told plenty of reporters, he raised his siblings alongside his mother.
Doesn't seem like an issue you'd attack him with, does it? And yet last night, the Wilcox campaign blasted out this statement in support of the Snitz challenge.
Anyone running for public office has a responsibility to do so in an open and honest way. My campaign fully supports Plaintiff Michael Snitz in this lawsuit because we the people have a right to know who is running to represent us in Congress. My opponent has used the names Ruben Marinelarena, Ruben Gallego, Ruben Gallego Marinelarena, and Ruben Marinelarena Gallego at different times for various purposes since he moved to Arizona, a few years ago. A lot has happened under each of those names, and the voters have a right to know who a candidate really is.
My name is Mary Rose Wilcox, and this community knows who I am.
My opponent, Mr. Marinelarena or Mr. Marinelarena Gallego, whichever it is, has arranged lawsuits to push fellow Democrats off the ballot. I am not trying to push anyone off the ballot, and I am not hiding behind lawsuits filed by others. I am openly calling for Mr. Marinelarena or Mr. Marinelarena Gallego to put his legal surname, including his given name Marinelarena, on the ballot, so everyone has the chance to learn about his experiences and who he really is.
And that's the story of how a female candidate came to attack an opponent for adopting his mother's last name, in defense of a Republican who's pretending to be Hispanic.
UPDATE: That ended quickly. First, the Phoenix New Times quickly debunked the insane name change charges, pointing to public documents about when and why Gallego adopted his mother's surname. Then the Gallego campaign send out a condemnation of the lawsuit from Gellego's mother. Then the Arizona Capital Times's Ben Giles broke the news that the case was dropped.
The Wilcox campaign's response:
Democratic grassroots leader Mary Rose Wilcox released the following statement today:
"It appears that Ruben Marinelarena did officially change his name to Ruben Gallego on August 7, 2008. The record of the name change was hidden from the public due to the name having been misspelled as 'Lavena' in the Maricopa County court system. That misspelled record is attached and the lawsuit has been withdrawn."
Eric Cantor's campaign, you are no longer the most mockable and bumbling team in American politics this week.
*Correction, June 12, 2014: This post originally misstated that Mary Rose Wilcox's last name at birth was Gillardo.