The Last Testament of Eric Cantor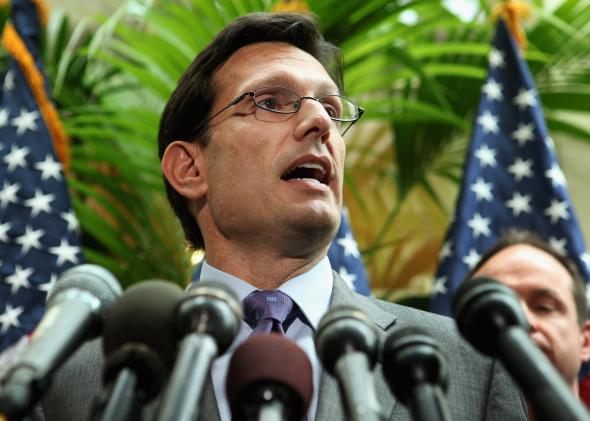 This was the scene outside the special all-hands Republican conference meeting at 4 p.m.: dozens of reporters, backs to the walls and recorders in hands, waiting to ask congressmen about Eric Cantor's defeat. Most of their targets walked glumly into and out of the basement conference room, as if they could make the reporters disappear by squinting.
When one Republican paused to take questions, he got an unexpected hazing. Rep. Jack Kingston, who's in the runoff for a Senate seat in Georgia—i.e., he won't be in the House next year—spotted Rep. Peter King attracting a scrum of reporters, delivering his familiar if not shopworn predictions of the Republican Party dying off if it keeps moving right.
"Y'all got an exclusive with Peter King!" snarked Kingston. "How'd you get that?"
The meeting itself was short and sad. According to remarks provided to the press, the speaker of the House gave a short au revoir to his ally, who'd "always been there" for him.
"We've been through a lot together," John Boehner told his troops. "Winston Churchill once famously said: 'Success is not final, failure is not fatal; it is the courage to continue that counts.' As one who suffered a tough defeat myself in 1998, I can tell you there's plenty of wisdom in that statement."
According to Pennsylvania Rep. Lou Barletta, Boehner teared up, and "he wasn't the only one." He was followed by Cantor himself and by Majority Whip Kevin McCarthy, expected to run now for leader. No one mentioned immigration reform. I asked because before he was a congressman, Barletta was the mayor of Hazleton, Pennsylvania, and became nationally known for tough regulations that barred the undocumented from renting or owning homes.*
"I'm very unhappy that we haven't dealt with immigration reform the way I think it should be dealt with," said Barletta. "And that would be to secure the borders and enforce the laws that we have."
California Rep. Jeff Denham, who unlike Barletta has been calling for a comprehensive reform bill, denied that immigration had brought down Cantor.
"I don't think that this election had anything to do with immigration reform," he said. "Lindsey Graham won. Jeff Denham won soundly. There are a number of members that are working on immigration reform and winning soundly. But we've got to bring up the bills."
But Rep. Ileana Ros-Lehtinen, the first Cuban-American member of Congress and a diehard reform supporter, was less talkative. As she left the meeting, she shrugged off immigration questions, preferring to answer questions from a defense reporter about Iraq. Meanwhile, Cantor was giving a chipper (under the circumstances) press conference, reiterating his support for immigration reform.
Outside the room, louder than was probably realized, you could hear a reporter calling the desk to ask if it made more sense to file a story right away or stick around for Cantor. "He's going on and on."
UPDATE: In keeping with my praise for Politico's far-seeing Jake Sherman, no one got a better Cantor quote than this:
INSIDE GOP MTG: CANTOR quotes holocaust survivor. Says "suffering is a part of life. Misery is a choice." Boehner is crying &thanking cantor

— Jake Sherman (@JakeSherman) June 11, 2014

Correction, June 12, 2014: This post originally misspelled Hazleton, the town in Pennsylvania where Barletta served as mayor.