Eric Cantor's Out. Who's Going to Replace Him?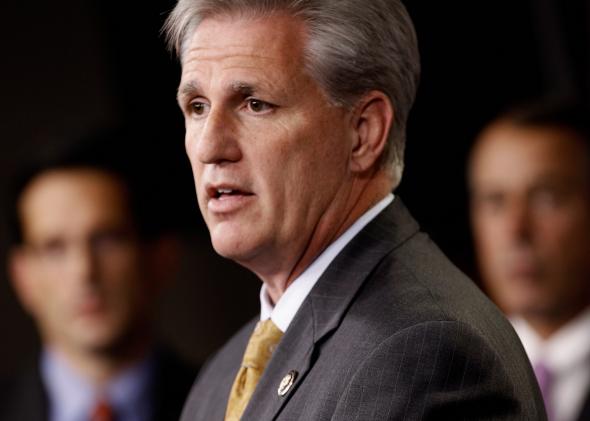 Last night, Rep. Eric Cantor's office cancelled a Wednesday speech he was supposed to give to the National Association of Manufacturers. You could hardly imagine a duller item of D.C. news—but this one was pretty loaded. Cantor was not going to bounce back quickly from his primary defeat. He was mulling something over.
More specifically, he was deciding to step down as majority leader, effective at the end of July, and to retreat from the politics of 2014.
In addition to stepping down as majority leader, Cantor has decided not to run as a write-in candidate in November, according to two Republicans close to him. The Republicans were granted anonymity to discuss sensitive internal talks.
Cantor returned to the Capitol Wednesday morning by sneaking into the building through a back door on the Senate side in hopes of avoiding reporters. He appeared stone-faced and tense, grimacing when asked by The Washington Post whether he would step down from his leadership post or resign from Congress.
It's the first surprise, midyear reshuffle of congressional leadership since 2005, when Tom DeLay's indictment forced him out of the majority leader's office (honestly, it's like drumming for Spinal Tap) and House Whip Roy Blunt succeeded him as a placeholder. Some guy named John Boehner (sp?) challenged Blunt as the change candidate; he beat him by 13 votes, 122–109.
That race, and the winter 2006 race that restored Boehner to leader and Blunt to whip—after losing an election!—were successive disappointments for conservatives. They had wanted more outwardly reform-minded right-winger John Shadegg to claw into the leadership. Only in December 2008, after another loss, did Blunt resign and Eric Cantor get elected to replace him. Cantor, as I wrote yesterday, branded himself as the "young gun" who would oppose Barack Obama and deny him any bipartisan cover. And less than six years later, he lost a primary as a hated Republican In Name Only.
So the 2014 race pushes up the timeline of the right. It (Tea Party local groups, D.C. groups, etc.) had been clamoring to replace John Boehner as speaker, an effort that fizzled in January 2013 but looks much less ridiculous today. Step one: the leadership race, which will take only 117 votes (out of 233 Republicans) to win.
Who might run? Rep. Kevin McCarthy, the majority whip, is next in line behind Cantor. As the lead recruiter for candidates in 2010, he has an unmatched personal relationship with a bunch of back-benchers (and stars). But it just so happens that Rep. Pete Sessions, who ran the National Republican Congressional Committee in that cycle and in 2012, also wants the leadership. He told reporters on the Hill today that he could be more conservative than Cantor.
Just a few months ago, Sessions was being challenged from the right, for not being conservative enough. The Overton window is shifting so fast, it's breaking the sound barrier.
Republicans who assume McCarthy will move up (or at least try to) are already running for whip. The first candidate out of the gates: Rep. Steve Scalise, who heads the Republican Study Committee, the conservative caucus that now counts most of the congressional GOP as members. Scalise has been an aggressive leader, sacking an aide (Paul Teller) after members complained that he was undermining them, and pressuring the Boehner/Cantor regime to bring a conservative Obamacare alternative up for a vote. Cantor had actually started acceeding to that demand—this month's congressional calendar made space for a vote. If Scalise won, he'd leapfrog Chief Deputy Whip Peter Roskam, a reliable member of the Boehner/Cantor team. (All of the people boldfaced hold safe seats, and McCarthy doesn't even have a primary challenger.)
tl;dr version of this: Does Cantor's loss move the party to the right? Yes, it's just a question of how far. Even if McCarthy and Roskam upgrade from economy to business class, they will be averting their eyes from the carcass of a leader who had wanted to work with Democrats on immigration and a Voting Rights Act fix. If Sessions and Scalise take the roles, the Texan and the Louisianan would owe their jobs to conservative votes in an increasingly conservative (and Southern) party.