The Tea Party Takes a Mississippi Victory Lap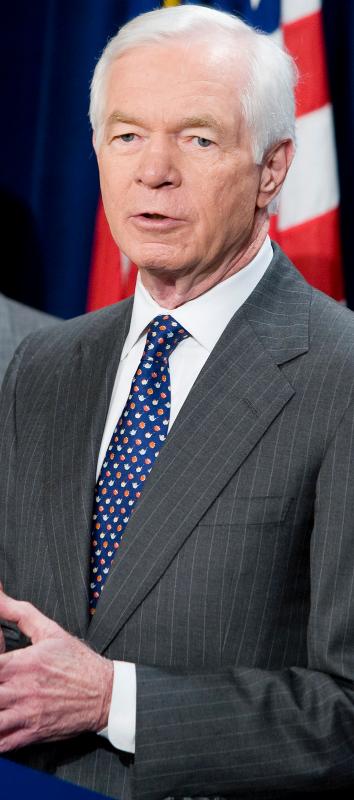 As my colleague John Dickerson is explaining in a piece today, the result in Mississippi's primary is heartbreaking for the old-line GOP. Republicans like Haley Barbour liked Cochran personally; they worked with him for decades on the unglamorous work of bringing money to a poor state. Such is the state of GOP primary politics that they couldn't even run on that. Who cared that Time magazine had praised Cochran as one of the very most effective senators? Barbour, et al., knowing their audience, tried to disqualify Chris McDaniel as a creepy, gaffe-prone trial lawyer, and define Cochran as a reliable conservative. They hoped that this effort, combined with outreach to Democratic voters in the Delta, would save him.
But it didn't. Conservative groups are now repeating a play they deployed in last month's Texas runoffs. They're calling on Cochran to surrender.
"Yesterday's historic vote makes it clear that Mississippians are ready to turn the page to a new generation of bold, conservative leadership," said Club for Growth President Chris Chocola in a statement. "Senator Cochran has served honorably, but the rationale for his candidacy ended yesterday. He said he didn't want to run again, but everyone asked him to. Well, a plurality of Mississippi Republican voters just proved that they don't want him to."
A majority, actually. That's the problem. Maybe a commenter can help me out, but I can find no modern example of an incumbent senator losing the first round of a primary and winning a runoff. (Arkansas' Sen. Blanche Lincoln, the last incumbent in a similar position, narrowly won the first round of a 2010 primary. She won the runoff and lost a historic general election landslide.) Cochran can't bring any more Democrats into the electorate in three weeks, because Mississippi law prevents you from voting in one party's primary and other party's runoff.
So the Tea Party is war-whooping. FreedomWorks, which has been struggling after staff departures and weak fundraising, dispatched its president to the McDaniel victory party and sent reporters evidence of its hard works—100,000 door knocks, 100 events, 40,000 yard signs. (You really can see the bold RETIRE COCHRAN signs all over the state.) The Tea Party Patriots Citizens Fund, a PAC that spent a half a million dollars on late ads, is currently meeting to discuss further investments.
"I expect we will be vigorous in our involvement in the next three weeks, and I've got to tell you, I like our chances," said Kevin Broughton, the fund's spokesman. "I'm just a little disappointed Sen. McDaniel didn't win last evening, because we honestly expected that."
What gave Broughton confidence? The hubris of the other side, and of the media. "I saw that the NRSC put out an email saying, they expect a vigorous debate," he said. "We're putting out an offer to co-sponsor a debate. Hah! You think somebody's getting fired for that, for using the word debate? Y'all in the media were the ones who called this the Tea Party's last stand, so it's a big adrenaline dump for us."