Do Democrats Have a Ghost of a Chance in Mississippi?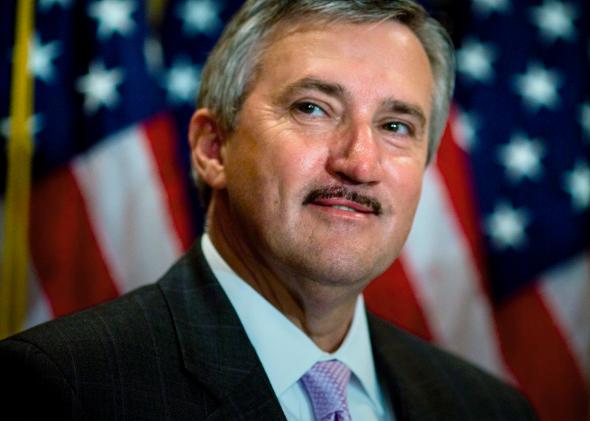 We don't actually know who "won" the first round of the GOP's Mississippi Senate primary. One reason is that it's incredibly close, tighter than any Mississippi statewide election in years, and late ballot-counting from Hinds County (Jackson, which broke for Sen. Thad Cochran) erased a lead of several thousand votes for Chris McDaniel. Another reason: The state, like many recently taken over by Republicans, has implemented a new voter ID law that has led to some delays in provisional ballot-counting.
The tightness hardly matters. There'll be a runoff, and the Republican establishment is see-sawing between two responses to this. One: As Josh Kraushaar and others have reported, it's not rushing to spend more money to bail out Cochran. American Crossroads, which tossed some coin at a pro-Cochran Super PAC. The Chamber of Commerce, which ran pro-Cochran ads that attacked McDaniel's legal work, sounds done, though won't comment on the record to me. (I'm fond of the blind quote in that piece in which a Cochran ally sighs that the Chamber doesn't have the "luxury" of spending more. The Chamber of Commerce!)
Two: It's echoing the Cochran campaign's claim that McDaniel could give the seat away to Democrats in a storm of Akin-ization. According to Ohio Sen. Rob Portman, "polling" shows that McDaniel would start in a tight race. According to anonymous Democrats, their polling shows the same thing.
How true is this? Well, no one's unlocking the polls, but publicly available numbers on the primary showed Chris McDaniel's favorable rating dipping as the race when on. (Had Clayton Kelly not upended the race by snooping on Cochran's bedridden wife, it's likely McDaniel would have won outright yesterday.) Democrats cleverly coaxed one-and-a-half term Rep. Travis Childers into the race, on the possibility that he'd get to challenge McDaniel.
Is there any reason to believe Childers can win? Not unless McDaniel makes tons of mistakes, no. This was always the problem with the Haley Barbour "hey, conservatives, don't saddle us with a loser" argument. When Gallup polls the states and asks people to name their ideology, Mississippi regularly has the most "conservatives." Not since 1999 has Mississippi elected a Democratic governor; not since 1982 has it elected a Democrat to the Senate.
So, how would a Democrat even start to win? It's useful to look at the 2008 Senate race between former Gov. Ronnie Musgrove and then-appointed Sen. Roger Wicker. Childers won Wicker's seat in a special election. Wicker's promotion (he replaced Trent Lott, who retired) gave Democrats some hope of winning a close race; Barack Obama's presence on the ballot was bound to drive black turnout. If Musgrove won around 30 percent of the white vote, he could take the race.
But he didn't come close. Musgrove won only 18 percent of the white vote; Barack Obama was winning 11 percent of it. To believe that Childers has a chance, you have to place a lot of faith in his geographic ties to his old district – the first district, covering Tupelo and most of northeast Mississippi. If he wins more of the black vote than Musgrove did, and the black proportion of the electorate is comparable to that of 2008, and he runs stronger in the 1st than Musgrove did… well, then he has an outside chance. But that's all it is.