23 Members of Congress Who Won Their Last Elections With Bigger Votes Than Bashar al-Assad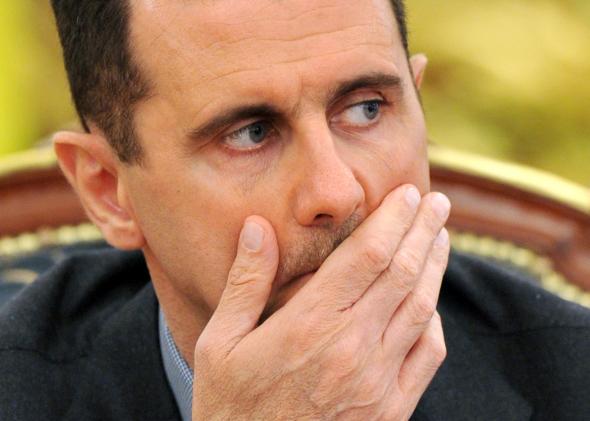 According to Reuters, Assad won re-election in an election consisting of government-controlled areas of Syria with 88.7 percent of the vote. The following: all of the current members of Congress who won more of the vote than Assad, or just rolled over no opposition at all, in the 2012 election.
1. Alabama Rep. Jo Bonner (unopposed)
2. DC Del. Eleanor Holmes Norton (89 percent)
3. Florida Rep. Dennis Ross (unopposed)
4. Florida Rep. Frederica Wilson (unopposed)
5. Georgia Rep. Lynn Westmoreland (unopposed)
6. Georgia Rep. Austin Scott (unopposed)
7. Georgia Rep. Paul Broun (unopposed)
8. Kansas Rep. Tim Huelskamp (unopposed)
9. Massachusetts Rep. Richard Neal (unopposed)
10. Massachusetts Rep. Jim McGovern (unopposed)
11. New York Rep. Gregory Meeks (90 percent)
12. New York Rep. Nydia Valazquez (95 percent)
13. New York Rep. Hakeem Jeffries (90 percent)
14. New York Rep. Charlie Rangel (91 percent)
15. New York Rep. Jose Serrano (97 percent)
16. Ohio Rep. John Boehner (unopposed)
17. Ohio Rep. Marcia Fudge (unopposed)
18. Pennsylvania Rep. Chaka Fattah (89 percent)
19. South Carolina Rep. Joe Wilson (unopposed)
20. South Carolina Rep. James Clyburn (94 percent)
21. Texas Rep. Sam Johnson (unopposed)
22. Texas Rep. Mac Thornberry (91 percent)
23. Texas Rep. Gene Green (90 percent)
TODAY IN SLATE
Medical Examiner
Here's Where We Stand With Ebola
Even experienced international disaster responders are shocked at how bad it's gotten.