Election Night Live Thread: The Last Temptation of Thad Cochran, and Other Disasters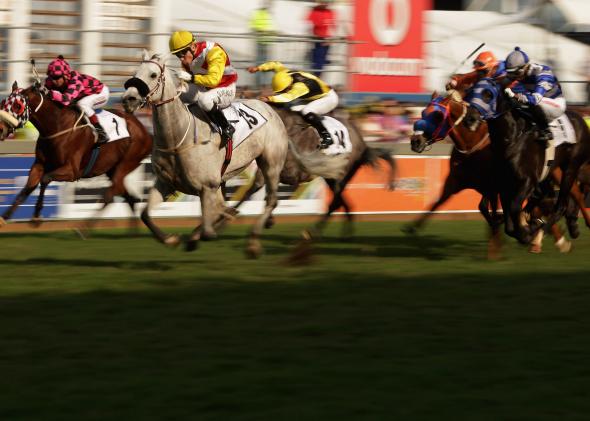 8 p.m. Polls close in Alabama, Mississippi, and New Jersey. The eyes of the pundit class (and more than a few parachuting national reporters) will be on the Magnolia State, where the aging Sen. Thad Cochran is struggling to defeat challenger Chris McDaniel. The best take on Cochran's problems comes from Molly Ball, who really perfectly conveys the amiable disbelief of the 76-year-old incumbent. He enjoys the Senate, he's good at delivering money to a state that takes $3 for every $1 it pays in taxes, and he's not much of a talker. McDaniel is a smooth-talking attorney and former radio talker who promises to give his state its first-ever reliable conservative champion. (Mississippi has only ever had three elected Republican senators: Trent Lott, Roger Wicker, and Thad Cochran.)
While you're waiting for your favorite political writers to file either a "Tea Party: Deader Than Disco" or a "Tea Party Roars Back" story, follow the quests of two sad, Dixiecrat party-switchers. In 2010 Mississippi Rep. Gene Taylor was finally ousted from MS-04, the ultra-right-wing district that covers the Gulf Coast up to Hattiesburg. This year he switched to the Republican Party and started planting signs that asked voters to "re-elect" him over the cherub-faced Republican who beat him, Steven Palazzo.
The Palazzo-Taylor race may go to a runoff, and may drive up turnout among voters more inclined to back Cochran. It's bound to thrill more than the Alabama gubernatorial primary between Kevin Bass and former Rep. Parker Griffith, a one-term Democrat who switched parties in 2009, denounced "socialism" on his former team, and went down like a sack of decapitated doll heads in the 2010 GOP primary. No, the one competitive primary to watch in Alabama will come in AL-06, where seven Republicans are battling to replace Rep. Spencer Bachus. Scott Beason and Paul DeMarco are elected state representatives; Will Brooke is a businessman whose viral Web ad showed him shooting then shredding the ACA. (Also, 2010 viral ad star Dale Peterson is vying in the GOP primary for state auditor.)
No state on the East Coast has as many competitive primaries as New Jersey. Democrats Rob Andrews and Rush Holt are retiring in safe seats, so NJ-01 and NJ-12 are crowded with ambitious liberals. In the first district, Don Norcross is running as the brother of a power broker (and Christie-endorser); in the second, two Democrats are trying to capture the good vibes of Holt, a rocket scientist, by running on their experience in the laboratory. Democrats are actually more interested in NJ-03, where frequent statewide candidate Steve Lonegan has carpetbagged from north Jersey to challenge businessman and former local mayor Tom MacArthur from the right. If Lonegan manages to win the primary, he'll be the rare opponent of Hurricane Sandy relief in a coastal mid-Atlantic district—a prime target.
9 p.m. Polls close in New Mexico, which … actually has no contest that tests anything particularly interesting. Democrats would prefer that Attorney General Gary King, a dynastic candidate, win the nomination to challenge Gov. Susana Martinez. Republicans want Allen Weh to win the party's nomination against Sen. Tom Udall.* Neither challenger is favored in the fall. But results are here, if that's what you're into.
In South Dakota, former Gov. Mike Rounds is hoping to dispatch with a group of primary challengers who accused him of being too moderate and insufficiently dedicated to bringing down Barack Obama. Certainly, state Sen. Larry Rhoden proved that he had the right anti-Obama puns to make the race.
But Rounds, like North Carolina's Thom Tillis, benefitted from the early backing of the establishment and the conservative movement's Three Stooges-esque inability to settle on a challenger. He is likely to win the nomination, then enter a ludicrous three-way general election against Republican-turned-independent Larry Pressler (who held this seat until 1996) and Democrat Rick Weiland. As Josh Kraushaar recaps, the progressive Weiland, a former Tom Daschle aide, spooked former Rep. Stephanie Herseth Sandlin out of running. In a way, it was a victory for the left over a Democrat who would have become the only member of the Senate to have voted against the Affordable Care Act. In another way, it ended a 18-year lock on a seat that Democrats had counted on.
10 p.m. Polls close in Iowa and Montana, both states with Senate seats that Republicans want to rip away from candidates, both where the parties' preferred candidates are now favored to win primaries. In Iowa, state Sen. Joni Ernst ran two ads in which she talked about castrating hogs and displayed her pistol skills at a shooting range. She rode a wave of national press coverage, and endorsements from Sarah Palin, Marco Rubio, Mitt Romney, and the Chamber of Commerce, to 36 percent in the latest Des Moines Register poll. If she cracks 35 percent against the weak field, she wins the nomination without a convention.
In Montana, Sen. John Walsh—appointed to his seat after Max Baucus quit the Senate for a post in Beijing—stands to win a primary against two challengers to the left. Former Lt. Gov. John Bohlinger, who at 78 would be the Senate's oldest freshman, ran early and hard against Walsh, against the wishes of national Democrats. Banker Dirk Adams has clobbered Walsh with a quote in which he seemed to be "open" to privatizing Social Security. (He actually gave a non-answer about what he was for.) Expect Walsh to win, and expect Republicans to crow about how low his percentage was—even though appointed senators frequently do worse than narrow wins. And watch the primary for the open House seat, where Republican state Sen. Matt Rosendale has run hard against the use of domestic spying drones.*
Results should be here in Iowa.
11 p.m. Polls close in California, which is on its second election cycle of "jungle primaries." Every candidate runs in June; the top two finishers, no matter what party they're from, head on to November.
Republicans hope that the system lets them retire some extremists. They are rooting hard for Neel Kashkari—yes, the TARP guy—to beat former Minuteman Tim Donnelly. It's not that they think Kashkari can win. (Not even Meg Whitman, with basically endless cash reserves, could beat Gov. Jerry Brown in 2010.) No—they like Kashkari, and think the party loses less down the ballot if he's the nominee and not a guy who spouts off about closing borders and banning Shariah.
It gets more interesting as the ballot drags on. Remember Leland Yee, the Democratic state senator ensnarled in a gun-running scandal? His downfall left Alex Padilla as the party's most serious candidate for secretary of state; he may face media-endorsed Republican Pete Peterson, he may face Republican-turned-independent Dan Schnur, or he may just lose.
Finally, in the races for the House, watch CA-17 to see if Silicon Valley donors can boost Ro Khanna past progressive incumbent Rep. Mike Honda. Watch CA-21 to see if DCCC-backed Amanda Renteria can get past 2012 candidate John Hernandez, a sleepy joke of a challenger who managed to lose a majority-Hispanic seat that Obama-Biden won by 11 points. Watch CA-33, the old Henry Waxman seat, to see which Democrats get to a runoff in one of the party's safest, richest seats. (Matt Miller, the "center" on Left, Right, and Center, got most of the media endorsements.) And watch CA-52 to see how well San Diego City Councilman Carl DeMaio does. He's guaranteed a race against Rep. Scott Peters, a Democrat elected on the Obama wave. Republicans would enjoy it if his vote exceeded Peters' vote in round one.
UPDATE 9:43: I made a bet that vote counting would take a while and stayed too long at a panel discussion that featured Neil deGrasse Tyson and Carl Sagan's widow. Now that I'm back: Steve Lonegan has lost his second congressional run (following a failed 1998 bid in the district he actually lived in), his second Republican primary (he went under in 2005 and 2009 primary bids), and his second overall election in less than a year (after losing the October 2013 special election for U.S. Senate to Cory Booker). The time may have come for Lonegan to return to business and punditry, as he said he would after the Booker race.
UPDATE 10:03: The raw numbers look close, and people are tweeting them with anticipation and dread, but overall Mississippi looks fairly strong for Cochran. One reason: Northeast Mississippi, which neither man could count on as a base, is breaking for him. McDaniel's blowing the doors off where he lives (around Hattiesburg), but Cochran is doing fine in the territory he and his wife are from, but that he hasn't had to fight for recently. That's simply not what happened in races lost by other incumbents.
Also good for Cochran: Turnout is better than one usually sees in a Republican primary in the Mississippi Delta. There's a reason for that—the Cochran campaign made a late push to Democratic voters in that largely black bastion of the party. Crossover voting is allowed in the state, and there was nothing competitive to keep Democrats on the farm in the Delta.
10:40: Iowa's Senate primary is looking like an easy win for Joni Ernst. She needs to break 35 percent of the vote to beat a runoff; with most of Polk County (Des Moines) counted, she's winning close to 60 percent just in that population center.
11:10: Mississippi's Senate race will be decided by a few thousand votes in the most populous sector of the state—Hinds (Jackson) and Rankin (conservative suburbs of Jackson) counties. At the moment, Chris McDaniel has a narrow lead, with not enough of the vote to beat a runoff. With about one-third of both Hinds and Rankin out, Cochran is winning the city by a 2–1 margin; McDaniel is narrowly winning the suburbs. Cochran would need to net about 4,000 votes to pass McDaniel, and more to beat a runoff. It looks exceedingly unlikely.
11:42: No primary challenge drama to cover in Montana or South Dakota. Rounds has easily won the South Dakota Senate race; Sen. Walsh has even-more-easily dispatched progressive primary challengers.
*Correction, June 4, 2014: This post originally misppelled Allen Weh's first name. It also misspelled Matt Rosendale's last name.