Don't Worry, the NRA Isn't Mellowing Out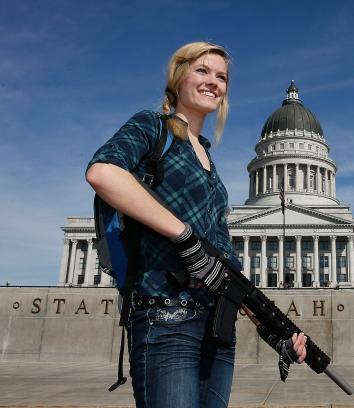 Progressive media has had a lot of fun with the Texas Open Carry movement, a group of well-meaning paranoiacs who film themselves bringing AR-15s to busineses as a way of testing their Second Amendment friendliness. Locally and nationally, coverage of these protests has been atrocious for the gun-rights side. So on May 30, the NRA issued a lengthy advisory statement telling people to knock it off. It's generated the expected headlines: The NRA is "blasting" the protests, and Open Carry Texas members are cutting up their NRA cards. Moderation prevails!
This is odd, because the NRA isn't arguing against the right of people to carry guns anywhere. "NRA certainly does not support bans on personalized guns or on carrying firearms in public, including in restaurants," reads the statement. The problem is that the open-carry protesters look like morons, and (to use a cliche that seems appropriate here) the events are backfiring. They are "downright weird."
As a result of these hijinx, two popular fast food outlets have recently requested patrons to keep guns off the premises (more information can be found here and here). In other words, the freedom and goodwill these businesses had previously extended to gun owners has been curtailed because of the actions of an attention-hungry few who thought only of themselves and not of those who might be affected by their behavior. To state the obvious, that's counterproductive for the gun owning community.
This obvious advice appears halfway through the statement—the other half is spent arguing against the trend of "smart guns" that are biometrically linked to owners, and the threat of states requiring such rigor in all sales. And the other new NRA argument of the week, which Timothy Johnson seemed to notice first, was that gun owners should object when mass shootings are called "shootings" and not just murders. In an NRA News video, commentator Don Raso explained:
The average person who doesn't stop to think about what he's watching falls for the story line. Think about the difference between a shooting and a murder. In one you have a shooter and the other one a murderer. All of a sudden instead of focusing on the real common link between all acts of evil, the evil person who did it, we are subconsciously told to think about the tool they used instead.
So, no, no sea change at the NRA.