The Tea Party vs. the Establishment, in Two Newspaper Front Pages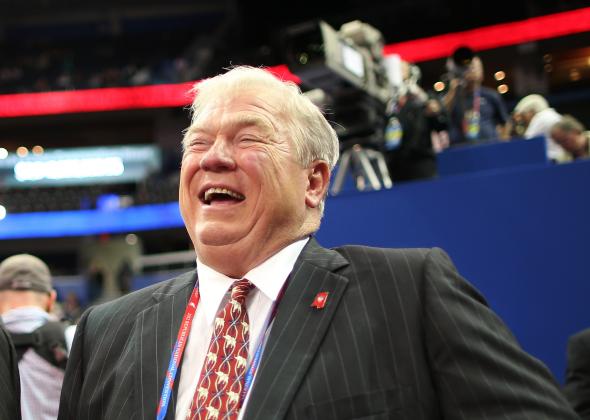 NEW ORLEANS—Haley Barbour, the former governor of Mississippi, finds a sort of groove at conservative conferences. He's the "big tent" guy. Four years ago, he appeared at the Republican Leadership Conference (also held in May) and warned that Democrats wanted the Tea Party to split the GOP. Tea Party challengers stayed within the party... and in Delaware and Alaska, unelectable candidates upset Republicans strongly favored to win. (Alaska's Sen. Lisa Murkowski ended up surviving winning re-election as a write-in candidate.)
This week, Barbour acted as the Ghost of Primaries Past. "I don't know how many of you know who Mike Castle is," he told the crowd, whose number included omnipresent, costumed "Tea Party Patriot" William Temple.
"Mike Castle was the governor of Delaware," Barbour continued. "When I was party chairman, Mike ran for the House. He was elected 18 times statewide... a bunch of people from New York and Washington, the Club for Growth, dumped a lot of money in the last two and a half weeks. He lost the primary.
This wasn't, strictly speaking, true—the Club for Growth did not spend money in the Delaware primary. But the crowd wasn't shouting to correct Barbour. "We rejected a guy who was gonna get 70 percent of the vote and we got a liberal Democrat who doesn't vote right 5 percent of the time," he said. "You can't elect Haley Barbour in Delaware or Vermont or Maine or California."
The next day, the early edition of the Times-Picayune led with Barbour's familiar call to reject the Tea Party's challenges.
What were people reading back in Barbour's Mississippi, where the Tea Party is in a decent position to knock off Barbour's ally, Thad Cochran? This recap of what happened down the Gulf Coast, the same day (and close to the same hour) as Barbour's speech.