"Mississippi Deserves the Most Conservative Senator in the Republic"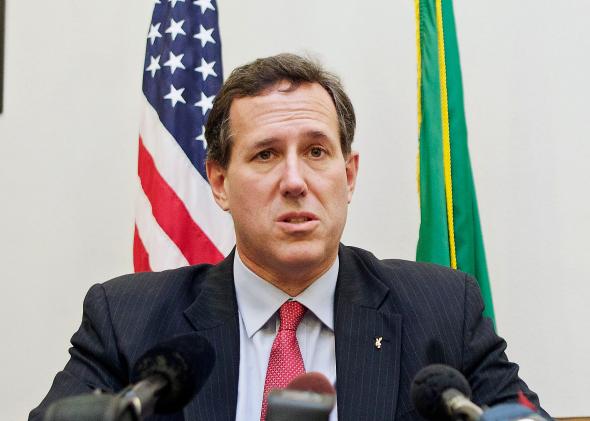 DIAMOND HEAD, Miss.—Before heading out of New Orleans, I ducked into a short press conference with Sen. Ted Cruz. Sarah Palin had visited the RLC, then bounded up I-10 into Mississippi to campaign for Chris McDaniel. Rick Santorum was about to speak at the RLC, then campaign for McDaniel. Cruz was not involving himself in primaries against incumbents, but what advice would he give to Mississippi's conservative voters?
"I think it is a very good thing when the voters hold elected officials accountable," said Cruz. Every incumbent "owed" voters answers to their questions, and owing them to deliver on promises. It was subtle, but not too subtle.
So I drove up the highway to the Diamondhead Country Club. The McDaniel campaign's bus was parked outside, prepped for an afternoon rally with Santorum. More than a hundred conservatives had shown up, on fairly short notice—more than one waved Gadsden flags. I grabbed a seat next to two retirees who were talking about the HGTV Facebook page, where they were arguing with liberals over the cancellation of Flip it Forward. (Something like Duck Dynasty, it was taken off the schedule after its hosts were caught out having made anti-gay comments.)
Santorum walked on stage before McDaniel, giving a short remembrance of how he won the state in 2012. "Nate Silver said I had a 2 percent chance of winning," he said. He endorsed McDaniel late, and did so because he was sick of the way the videotaping scandal was sidetracking the media and the candidates. "They're hiding the ball here," he said.
The came McDaniel, who gave a smooth version of his stump speech in between bantering with the children who'd been brought onstage. "This race is worth everything," he said. "When Sen. Cochran went to Washington the first time, the national debt was around $400 billion. The national debt has increased by $400 billion since I got into this race."
McDaniel ran through the ways Cochran had disappointed Mississippi. Nothing that had hurt the state directly, just fights he could have joined and didn't. "No one can name a single time that he's raised his voice in defense of the Constitution," he said. "Mississippi is the most conservative state in the republic. It deserves the most conservative senator in the republic."
But Cochran? "Senator Cochran voted to increase the debt ceiling," said McDaniel. "He should have fought... he voted for amnesty at least once. He's voted for gun control at least twice. He fought to confirm Chuck Hagel. He fought to confirm John Kerry. And he fought to confirm Ruth Bader Ginsburg. Mississippi leads a warrior and we don't need Texas leading our charges for us.".