The House Votes to Stop Medical Marijuana Busts by the Feds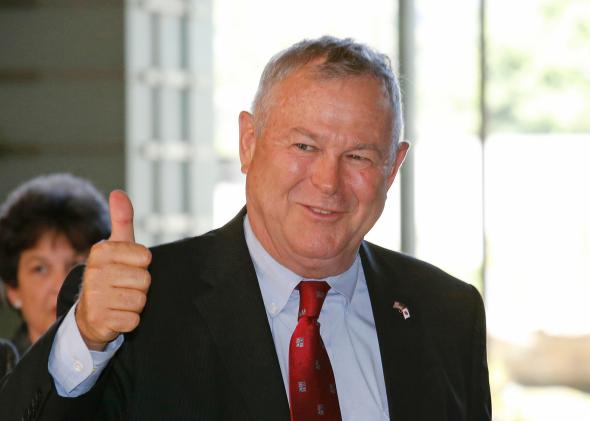 Late last night, after many reporters had stopped watching (or in my case, left the city), the House of Representatives delivered a surprise. It passed an amendment delivered by the reliable anti-war-on-drugs Rep. Dana Rohrabacher, one that would prevent the DEA from using funds to break up medical marijuana operations in the states where they're operating legally.
The vote blended the parties, though most Democrats (170) voted for it and most Republicans (172) voted against. The very few Democratic "no" votes came largely from more conservative members, like Georgia Rep. John Barrow, Tennessee Rep. Jim Cooper, and West Virginia Rep. Nick Rahall. The only young-ish member on that side voting "no" was Rep. Joe Kennedy III, a teetotaller whose uncle Patrick Kennedy (a former congressman from Rhode Island) is an advocate for marijuana prohibition.
The Republican "ayes" were a roll call of the libertarian GOP. There was Michigan Rep. Justin Amash, who according to polls is beating the stuffing out of a Chamber of Commerce-backed primary challenger meant to send a lesson to people like him. There was South Carolina Rep. Mark Sanford and Mick Mulvaney and Jeff Duncan; there were class of 2012 upstarts Florida Rep. Ted Yoho and Texas Rep. Steve Stockman. Rep. Paul Broun and Rep. Joe Heck, both doctors, voted for the amendment. Ryan Reilly got a quote about why:
Broun said there were "very valid medical reasons" to use marijuana extracts or products. "It's less dangerous than some narcotics that doctors prescribe all over this country," Broun said. He said medical marijuana was a states' rights issue and Congress needed to "reserve the states' powers under the Constitution."
And that's how, in 2014, an old white medical doctor made the case that the first black attorney general's DOJ should lay off on drug users.