Jay Carney is Retiring. Let's Not Replace Him.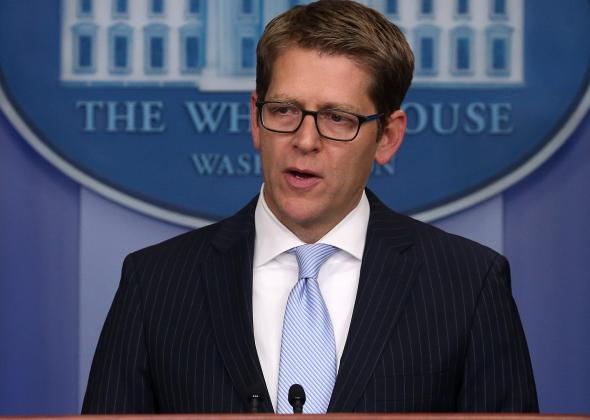 Jay Carney is retiring after three years and four months as White House press secretary. The praise and encomiums came even from the people who recently worked for Speaker of the House John Boehner -- like Lex Luthor stepping down and getting a stirring positive editorial from Clark Kent.
Congrats to @PressSec on a great run. Incredibly tough job, and rarely made a misstep.

— Brendan Buck (@BrendanBuck) May 30, 2014
He's being replaced by Josh Earnest, who's already being puffed up with praise.
I cite Glenn Thrush, one of the best White House reporters there is, because he works for Politico, which just recently published a funny and damning survey of what White House correspondents thought of their beat. Jay Carney ranked third among the "most helpful" White House spox. (Josh Earnest did well as a write-in choice.) Forty-two percent of reporters called the Obama White House the most secretive it had covered. Carney was not the cause of that, but a sympton: The most public part of his job involved giving non-answers on live TV, streamed in real time by multiple networks and the White House.
By popular agreement, this was totally useless. Carney's many ways of dodging questions became so infamous that former Slate-ster Chris Wilson compiled them into a usable chart format. In that exercise, he highlighted one of Carney's most meta dodges.
We have a team here that works really hard trying to anticipate the questions you're going to ask. The problem is, there's a lot of you and you're good at your jobs and you're smart.
This basically gave the game away. The tragedy of the White House beat, as hacks like me keep pointing out, is that the White House is forever innovating ways to make it useless. A specific question about the administration? Why, there's another department you can direct your questions to. What news there is gets generated by reporters acting on their own, not by anything pulled from the White House press secretary. Jay Carney's role, and Josh Earnest's role, is to dodge; to provide (hopefully viral) TV drama when reporters like ABC's Jonathan Karl start machine-gunning questions; to produce stories without producing news. At one time, it resulted in the truly odd spectacle of Carney mocking the way Karl asked his questions.
There is no way to give the press corps the regular access to the president that it wants, or that we need. But what did we get from Carney on, say, the weeks of the Shinseki resignation? On a story that was driven not by asking questions of the White House, but by reporters investigating the conditions at hospitals? Here's a sample of how Carney answered questions about whether the president had "confidence" in Shinseki.
I would point to all of those who have, as the President does, a concern about our veterans and the need to provide them the services and benefits that they deserve; to the effort that we have taken and that Congress has responded to in providing the additional funding over and above what was provided in the previous administration -- substantial increases year by year -- and to the steps that, under Secretary Shinseki's leadership and the President's leadership, have been taken to expand the benefits provided to our veterans, expand significantly the number of veterans who are availing themselves of benefits through disability claims and through the Veterans Health Administration, and to say simply that more work needs to be done.
I would note that the President has also directed Secretary Shinseki to make sure that the VA is making maximum use of its existing authorities and looking at whether the VA needs any additional tools in this area.

I think I would simply note that the President ordered Secretary Shinseki to conduct this review. He supported Secretary Shinseki's recommendation that the independent IG conduct an investigation. He dispatched one of his most trusted advisors to the VA to assist with Secretary Shinseki's review of the specific allegations surrounding wait times, and to conduct a broader review of VA and VHA operations.
He believes Secretary Shinseki served his nation extraordinarily capably as a soldier, rising to four-star general; that he cares deeply, as a disabled veteran himself, about his fellow veterans; and that in his job as the Secretary of Veterans Affairs he has with passion and integrity gone after some of the challenges that the VA has faced over these past several years, including veterans homelessness, which has been reduced over these five-plus years; including increasing educational opportunities and benefits to our veterans, the 9/11 generation of veterans through the 9/11 GI Bill; and including by attacking very aggressively a problem of the disability claims backlog, a problem that was exacerbated substantially by the decision to expand a presumption of benefits to those who were either exposed to Agent Orange during the Vietnam conflict or to veterans of the Iraq and Afghanistan wars who have experienced PTSD.
Why do we need this particular public official? As the White House pioneers ways to avoid questions, what's the point of the job Jay Carney's now leaving?